My stomach did not appreciate my need to have a good time with friends last night!  I woke up at about 9am (new time as the clocks went forward this morning).  We lay and nattered for a bit before the rest of the house rose.  There were five of us that crashed at Vick's after the party last night.  My friend Al grabbed Dan and I glasses of water which we guzzled down and Vick made everybody bagels.  Everybody had bacon bagels and crumpets.  I'm not a big fan of bacon so just had a plain dry toasted bagel with a small crumpet with butter on for breakfast with some cranberry and raspberry juice.  The juice was just what I needed and I might have refilled my glass after this picture!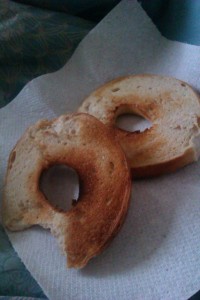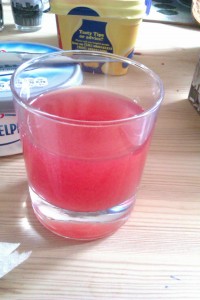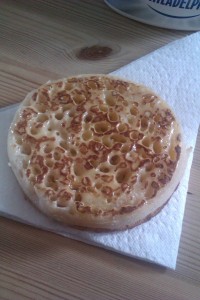 When we arrived back home neither of us fancied doing much so we chilled on the couch and watched some more of Long Way Down.  It brought back lots of memories of my trip to Malawi last Summer and Ewan was even in Blantyre at one point, which is a place I visited.  I kept telling Dan little snippets of information about the country as the DVD brought things back to me.
Dan gave me an Easter bunny whose ears I nibbed on whilst watching the DVD.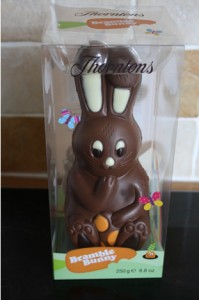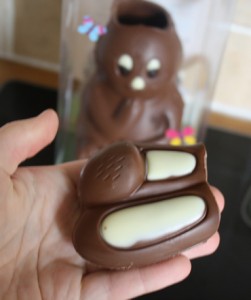 Afterwards I got my running clothes on and headed out for a run.  I had initially planned to run 13miles at 10mm average pace but knew that that was not really an option for today after last night.  I instead decided to run dependant upon how I felt at the time.  This was great and after marathon training I really must run more runs like this!  I kept setting myself mini challenges in my head and striving to achieve these as I went along.  I wasn't even sure how many miles I was going to run when I left the house but after half a mile and realising that I had not brought out my water bottle I knew I would be limited as to how far I could go.  This helped with my decision to set out quite quickly.  I ran my first mile (as always, including my quarter of a mile warmup) in 10:39, but my next two were
9:02
and
8:53
…almost 5k pace!  At 2.5 miles I could feel my tummy whinging at me following the alcohol from last night so I decided to head via the visitor centre toilets nearby.  Felt much better after my quick stop with mile four at
9:20
pace.  I decided to run to 4.7 miles (where there was a turn in the road at this quick pace before dropping back to a steady pace and then easing it off to an easy pace as I got closer to home.  Mile 5 was at
10:20
, mile 6 at
10:59
and then I decided to pick the pace back up along the steep hill by my house to bring the last mile in at
9:30
pace.  I felt rather satisfied with my run and burnt off 870 calories in the process!
After a glass of milk (mandatory!) and a shower I was ready for tea.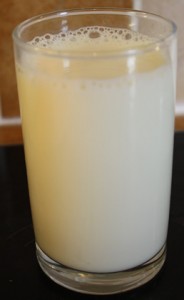 The plan had been to cook a roast chicken so that we had meat for the rest of the week but neither of us really fancied a very heavy meal.  Instead I threw together a pasta in sauce for Dan and I decided to be a little creative to use up some of the mango I bought at reduced rate during my shopping trip yesterday.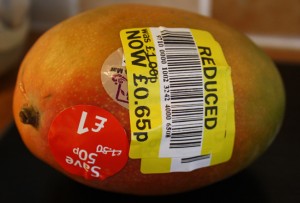 My dinner consisted of some sweet potato fries, lettuce, cherry tomatoes, half of the mango and the crust of a Hovis Best of Both loaf with butter on.  As an after thought I added a scrambled egg as I haven't had any protein today and know this is something I desperately lack in my diet at the moment.  Sooo easy to do in the microwave.  In the past I've always been put off having egg as it involved getting out the frying pan and cleaning the hob down each time but it just took 90seconds in the microwave in a bowl and it was ready to add to my dinner.  I shall be having more egg with my breakfasts over the next few weeks now I know how easy it is to do!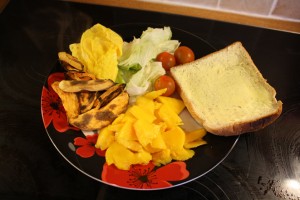 When I returned from my run I realised how scruffy I actually looked…hair falling out of my ponytail, last nights makeup from round my eyes still not properly removed and covered in salt stains!  My shower was very much enjoyed and I now intend on another lazy evening with Dan and Bella!  I could definitely get used to no work!