With just eight weeks before my second marathon I glanced through the report I sent to all my sponsors on completion last year and thought I would add to my blog…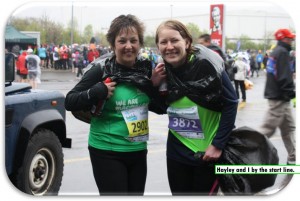 MILTON KEYNES MARATHON – 29th April 2012.
The wind had been horrific and it had poured it down non-stop since lunchtime on the Saturday.  When I woke on the Sunday morning I realised that one of the trees out of the front of our house had fallen down across the end of our road.
I picked up my friend Hayley from the next village and, along with Dan my boyfriend, we made our way to Milton Keynes, me gripping the wheel tight as gusts of wind continually blew against the car and the water was so deep in some places on the A6 we were at risk of aquaplaning.
On arrival to the car park I managed to stall the car turning onto the grass field.  A friendly marshal helped to push me up the mud onto the hill but once we had parked and got out, we discovered that the car had flecks of mud everywhere over it.
Within seconds of leaving the car we were soaked through.  I was grateful I had decided to pack long running tights and a long sleeved top as well as my normal shorts and short-sleeved t-shirt I tend to race in.  Dan was there in a full-on ski-jacket and salopettes!
After quickly getting changed and adding a bin bag to the outfit to help keep dry for a little longer we popped our bags in the luggage lorry, posed for a quick photo and headed to the start line.
I was aiming for a Sub 4hr 30min finish although was prepared in my head to adjust this as necessary as the weather was so bad.  As we stood on the start line I could feel the rain creeping into my slightly past it trainers and was worried about getting blisters on route.  Our coach came over to wish us luck and didn't even recognise Hayley as her normally quite-big hair style had been flattened by the rain.  Somebody told us that the winds were currently at 27 miles per hour!
I didn't hear the gun go off, but we suddenly started moving.  Slowly at first.  It took a good ten minutes to cross the start line and then the pace began to increase until I was running at my target pace.
At mile 3 there was an underpass, where several of the W&DAC club members were standing to support those of us running the marathon.  I heard several shouts, cheering and photographs being taken as I came through and I left with a big smile on my face.
The route was mainly based on the many cycle paths round the outskirts of Milton Keynes and we passed under several bridges along the course of the marathon.  Not long after we came to another underpass.  As we approached a marshal shouted out 'If you head to the right, you can avoid the worst of it!'  I looked ahead to see about a 10 metre long by 5 metre wide strip of water past ankle depth.  There were already approximately 100 runners queuing to get down to a very narrow strip on the right hand side where the water was only a few centimetres high.  I had started to weigh up in my head how many seconds I would lose to queue around the outside of this stretch.  It wasn't good.  Especially if there were more stretches like this further ahead.  I didn't want to be the first to 'test the water' though.  Luckily, a few seconds later, a runner sped past from behind straight through the increasing 'puddle'.  I followed behind.  I was soaked already.  A little more water in my trainers wasn't going to do a great deal of harm!
The worst few miles weather-wise were the first few.  My body was still adjusting to how wet it was and the winds were cold and strong.  There was very little wind protection whilst running around the lakes in the first few miles.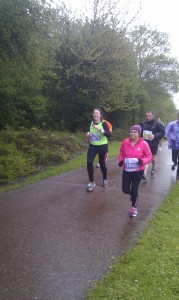 I started to need the toilet at around 6 miles.  I stopped at mile 10 at some portaloos where I wasted ten minutes queuing for a wee…must have been the sound of all that rainwater!  Whilst I was waiting two members of my running club from the training group below me ran past.  I was determined not to finish behind them and once out of the toilet, picked my pace up until I got back in front of them again.
At mile 11 I passed Michelle from our club who was looking very poorly.  I offered a few words of encouragement as I passed, and later found out that she had pulled out at mile 12 before being rushed to hospital with hypothermia.
A woman leapt out of a car ahead and shouted out my name.  She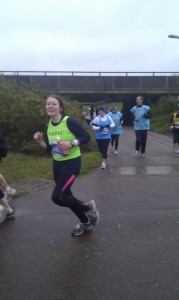 had a camera in her hand but the rain was belting down that hard on my face that I couldn't make out through the rain who she was!
Coming past some of the waterfront flats at mile 12 I once again heard shouting and looked up to see Andy, one of our club 'Runners of the year' shouting from somebody's balcony at me!  It was so nice to have so many people out supporting the race in such horrific conditions!  Dan and I had planned a route for him to walk to try and see me as many times as possible on the course.  He saw me at mile 5, 11, 16 and then the finish.  When we got home, he realised how many miles he had actually walked over the course of the day and decided that his legs hurt!
I was on target for a 4h 30min finish (average 10mins 18secs miles needed) until about mile 15 and then I started to struggle.  I almost mugged a woman at mile 16 for the handful of jelly babies she gave me!
From mile 19 onwards it became a battle in my head to continue running rather than dropping down to a walk.  At points my body won, and I power walked small sections although I tried not to walk for too long at any one point.   At the first point I walked, only a few seconds passed before I heard 'Come on Mary!' shouted down a megaphone.  Callum, Hayley's husband, was stood in the sidelines in front of me cheering me on.  I picked back up to a quick jog.
We entered a wood just after 19 miles.  Here, everywhere was just mud!  I had to assess and dodge the worst areas and slow my pace down to accommodate for the new terrain.  I ploughed through the 20 metre puddle in front of me at one stage, without realising until I was in it that at the middle the water came up to my knees!  Because I had been running for more than three hours now though, my body was so warm already that I could feel the water in my shoes change temperature almost immediately.
Kim, our club press officer was stood on the side of the road at mile 25 and it was fantastic to see a friendly face here, so close to the finish.  With only one mile to go, what should have been a ten minute distance still seemed so far away!
As I ran down the final road towards the stadium, there were marathon finishers walking in the opposite direction, encouraging us on our final little bit.  I ran a little way chatting to a man, who took my mind off the growing ache in the top of my thighs from pounding more than 26 miles of terrain.  He kept me motivated to continue running although by now my legs ached so badly.  Even with the stadium in sight, I had been close to walking again.
As we ran down the slope into the stadium though, I saw people lining the seating area inside, and saw Dan shouting me on.  I picked my pace up again, although not quite managing a sprint finish for this race!  There was a red line close to the entrance of the stadium, which I had thought was the finish line to run over with our timing chips.  However, as I glanced across the other side of the stadium, I saw people still running, and what looked the finish over the other side of the arena.  Dan later told me that whilst he had been waiting for me to come in, several runners had actually stopped over this line, thinking it was the finish before the crowd urged them on to the actual finish.
Dan ran round to the other end of the stadium to see me come through the finish and then came over to the edge to give me a kiss as I walked around to collect my medal.  All I could say was 'I'm starving!  I need some food now!'  All I'd had to eat that day was two pieces of toast at 7am, a handful of jelly babies and three energy drinks.  I don't run well on a large meal, but it was now 3:30pm and I had used more than 3000 calories on my run!
I didn't feel cold, and I didn't feel sore, but once I had collected my bag and went to get changed I had stiffened up slightly and found it hard to bend and change into dry jeans and a hoodie.  I still felt reasonably warm though, although many were complaining of the cold.  There was only a choice of a McDonalds or a KFC on the complex.  I'm not a fan of either, but sat in McDonalds whilst Dan went and ordered me a hot chocolate and chicken burger.  Here I saw Carley, also one of the runners from the 'beginner' group I joined with last Summer.  She had finished in 4h 45m 55s.  Hayley came along not long after, having finished in 5h 17m 54s.
I was a little disappointed with my finishing time of 5h 06m 52s but not surprised considering the conditions.  We discovered afterwards that the course had been extended by almost half a mile due to severe flooding.  This was my first marathon and now gives me something to work towards for next year.  The conditions couldn't possibly be worse than Milton Keynes today, so there is a strong chance I will be able to claim a Personal Best (PB) in 2013 (or Autumn 2012 if I'm feeling brave!).