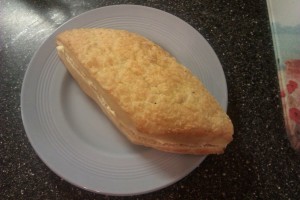 I had a lovely sleep, despite going to bed at midnight, much later than intended!  My room at my parents house is right at the end of the bungalow and only used when I come back for a weekend so whenever I come home, Mum always makes sure to put in a portable heater so that it's nice and toasty warm!
This morning I had decided to run the Sheringham Parkrun.  I LOVE the concept of Parkrun and getting people out each Saturday morning to walk/jog/run their way round a 5k course anywhere in the country (or even several places out of the country now!)  My Mum is yet to see me run, despite having now been  'runner' for nearly two years.  Races often fell on Sundays when she was playing the organ at church.  She had intended to watch me at my first marathon last year but horrific winds and rain throughout the night accompanied with the fact that she'd never driven out of Norfolk, let alone crossed four counties to get to Milton Keynes meant that she ended up sitting at home waiting by the phone to hear my result on the day.  She had promised to watch me at MK this year but with her first full course of chemo finishing a few days before it is unlikely she will be strong enough to travel by then.  Solution: Parkrun at Sheringham!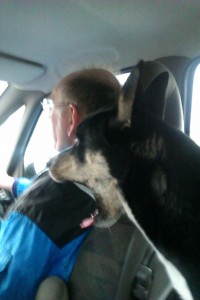 Dad drove and Blue was incredibly excited to come and watch too!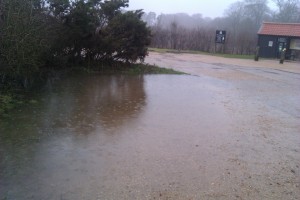 When we arrived, this was the state of the carpark following a nights non-stop rain!  It continued to rain the entire race!
I put off taking my large riding jacket off until the very last second, before handing it to Mum as we headed to the start line.  Underneath I just wore my club tee-shirt and long Nike tights.  The woman walking next to me commented on my bravery…I was the only one in short sleeves and no jacket!  I knew I would be too warm racing in a jacket though and was glad of my decision later on when we began.
Having not run the course before but heard of it's undulations (Aren't all courses described as undulating?!) and being aware of the weather conditions I was not aiming for a PB today.  My current PB is 26m 55s on a completely flat field in Northampton!  This was up, down, muddy and in a wood with lots of roots in the ground and gates to pass through!  As I was not entirely sure what to expect I took the first mile quite steady, completing it in 8m 47s although I was glad to see most of it was actually downhill!  The second mile was more ups and I completed this in just over 9mm, still feeling strong.  The third mile was a killer.  By this point it was extremely muddy, I almost slipped over twice, had to go through two small gates and was beginning to struggle with my pace.  A guy passed me and said 'There's just Heartbreak Hill up ahead and then you're homeward bound!'  Not long after this we headed up a long, steady hill and I figured this must have been the hill he mentioned.  It was tough but I got up it…to see the actual 'Heartbreak Hill' up ahead!  It was incredibly steep and muddy, narrowm with roots shooting out everywhere and a river of rainwater pouring down it's centre!  I power walked it, knowing that the finish was now not too far away.  At this point I imagined hearing gunshots and wondered if holograms of the finishers appeared in the sky along with their splits and race time, Hunger Games style!!!  I could her actual cheering now so pushed for the last 0.2m sprint finish, forgetting to stop my watch at the line.  Typical!
I came in 40th and there was a little bit of a backlog of runners infront of me to pass in their barcodes so I stop chatting to those around me.  The guy that had given me the tip about Heartbreak Hill said that he had respect for all finishing in under 30 minutes today in those conditions.  I knew I had come in under that.  I think about 29:40ish.
We stopped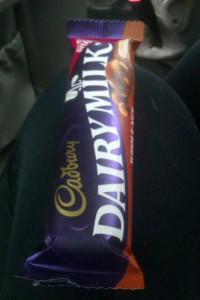 quickly in town after the run to pick up Dad's lottery ticket, where he also picked up a Dairy Milk for each of us. Neither Me or Mum are fussed about nuts but I needed something after my run so nibbled slowly at it on the way to the dog walking fields.
Mum took a picture of the back of my legs to show how muddy I was after my run!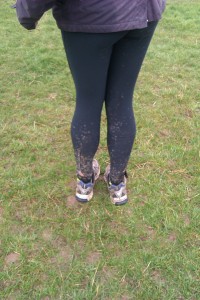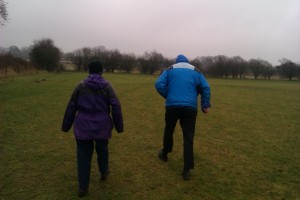 The three of us walked Blue a few miles around the fields.  Mum has started to struggle walking any distance now.  She was quite puffy today and mentioned that the nurse said she would often find herself out of breath in the coming months as the cancer spreads further.  It's horrible to see the change.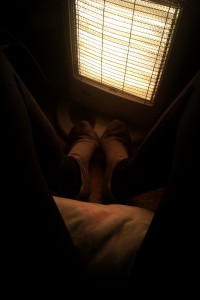 I'm now currently sat infront of the portable heater in my bedroom drying myself off and trying to get motivated to head into town and grab a hot chocolate with my longest serving friend Hollie…