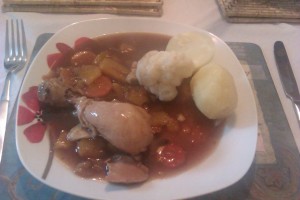 Here's the chicken casserole from lunch.  One drumstick, two potato halves, a piece of cauliflower, some swede and carrots.  Yum!  It was of course followed by dessert – a small slice of almond cake with chocolate custard.  Dad cannot live without dessert.  In actual fact, less than an hour after this meal he offered both my Mum and I Magnum chocolate icecream bars as he was peckish and fancied one!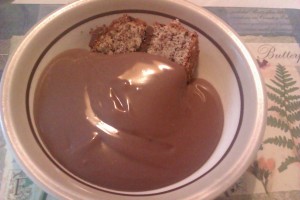 Dad used to be a builder, and still has a self-employed mentality, despite now being retired.  He is always up and about and poking in little projects, using lots of energy.  He can't understand why everyone is not as hungry as him!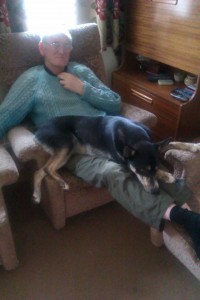 When Blue gave up trying to bite my toes he turned to sleeping on Dad's legs instead.  He is WAY too big to be doing this!!!
I spent a lazy hour playing with WordPress and trying to sort my new domain out before driving the two hours home and after tidying, washing, cleaning, etc threw a tomato soup in the microwave with an old on-its-way-out wholemeal pitta.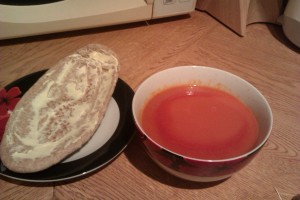 The next task of the night is to try and book a hotel for The Great North Run in September.  Some of the hotels I've seen are over £300 for just one night!  It's too far to drive up the morning of the race though, I'd be too tired by the time I ran it and I would really love to PB with a Sub 2 at this race after a Summer of running…