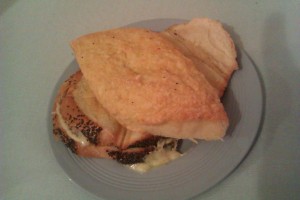 Whilst I was still relaxing on the bed and working up enough energy to shower, Dad brought me a small cheese toastie and half a cheesey bread roll.  I know that this wasn't ideal and that I was mirroring my breakfast but with even more cheese…I find it really hard to say to Dad I don't want something.  He doesn't really show emotions, and has always used food to reward or treat me and my brother.  I got very mad at him several times when we were doing up my house I live in now.  We would leave Norfolk at 4:15am, travel to Northamptonshire where I would drop him off at my house, helping with anything he would need an extra pair of hands with before heading into school for the day, returning to pick him up at 4:30pm, staying and working on the house while it was still daylight enough to do so before driving the three hours back to Norfolk again for the evening.  He would always go into town and get cream cakes and save me one or buy chips for when I finished work.  All I was doing was sitting in a car/teacher's chair all day and I got so frustrated that Dad kept buying me rubbish food.  He saw me as unhappy and tried to cheer me up by food!  It's that vicious cycle!  Haha!  Mark is very good at just saying no but I never wanted to hurt Dad's feelings.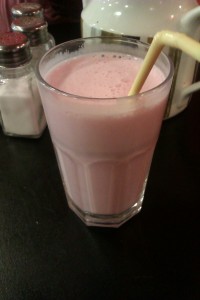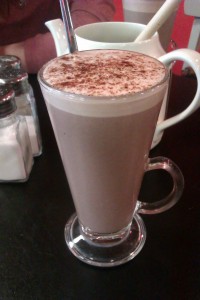 I nipped into town after I finally got a shower to grab a hot chocolate with my friend Hollie.  I knew there was the possibility of another drink on the cards as a serious catchup was required, so skipped the cream and marshmallows and didn't feel quite as bad when drink number two came around and Hollie picked up a strawberry milkshake!
Tea was salmon with cheese sauce, peas, carrots, lettuce, cucumber, tomatoes and peppers.  Mum knows my plight for eating healthily!  Aunt Mary had made chocolate buns for dessert and I picked at one before eating the remainder of the custard out of the mixing pot for seconds that Dad had made.