New domain finally up and working!  Click here to prove it works!I still need to get this transfered over as my my main address so bear with me the next couple of weeks.  I have big ideas for this blog…keep checking back!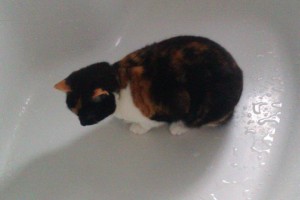 This is Bella in the bath this morning.  Every morning she sits outside the bathroom door desperate to get in as soon as I have finished my shower.  The room is pretty steamy afterwards as I like my showers really hot but she always goes running in, jumps into the bath and just sits until I go to work…she's such an odd cat!
Now, food.  It's been rubbish today!  Mum sent me back from Norfolk with this cake…
Silly mistake, especially as I know Dan doesn't like it as it's almond/marzipanny.  I had a LARGE slice for lunch, along with a tiny tangerine and really was not hungry enough to eat anything else.  BAD Mary.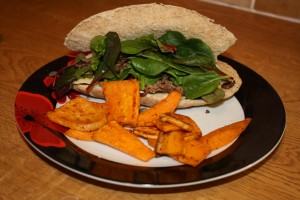 For tea though I experimented with the meal I never got to try on Wednesday night.  I made us beef pittas with cheese and mixed leaves.  I wasn't fussed about the beef, I really think I could live without meat completely at the moment.  On the side I cut up some sweet potatoes which I tossed with some herbs before baking in the oven for 20 mins.  I am in love with sweet potatoes!  These are definitely going to be a repeat item on the menu!