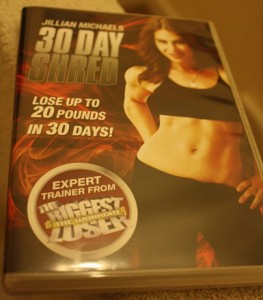 So last night I began the 30 Day Shred after hearing nothing but good things about it!  My starting measurements are as follows…
Chest: 97cms
Waist: 85cms
Hips: 102cms
Biceps: 28cms
I have taken pictures, but will save them until 30 days time…hoping to see a more defined difference!  Leaving work tonight I could feel the burn in my lower abs and as I put my arms up to do the 'windmill' warmups on the DVD tonight I could feel the burn in my arms too!
Lunch today was a wholemeal pitta filled with cherry tomatoes, a ham and egg slice and some carrot sticks.  Rather mismatched, but tasty all the same.  I was waiting for the tomatoes to squeeze out of the side as I had been too lazy to cut them first but luckily this didn't happen (even though my workmates sidled away from me when I announced that I was putting them in my pitta whole!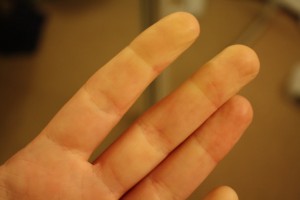 It's hard to tell from a photo, but my fingers started to go completely numb again this evening after work.  You can slightly see a whitey/yellowish tinge in this photo here on my index finger.  I'm not sure why they keep doing this but it was the same finger again as last time.  I need to go to the doctors during the Easter holidays anyway so will bring this up then.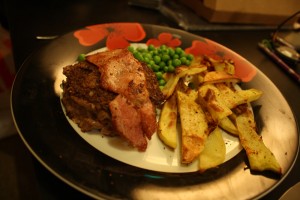 Feeling like I've still not really spent much time with Dan lately so I decided not to go to running club tonight, but instead do my 30 day vid when I got home from work and a quick tidy up before spending some time with my man!  He treated me to an experimental dinner tonight after my few experimental meals just lately!  He put together a beef patty, with cheddar inside and topped with a bacon rasher.  He made his own chips, not using oil and flavoured with cajon seasoning with a side of peas!  Yum!