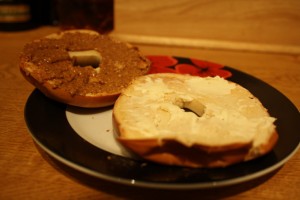 Up at 5:30am this morning so that I could fit a run in before work.  I had a toasted bagel – half with almond butter and half with white chocolate spread(!)
Another great run.  I really am turning into a morning exerciser!  I did my normal 5 miler route.  Times as follows…
Mile 1: 10:21
Mile 2: 9:22
Mile 3: 10:08
Mile 4: 8:38
Mile 5: 10:02
I've gotten into a routine when I do this run that I have my first mile as a warm up, push it for a mile, run a steady mile, push a faster mile and then a mile cool down at the end.  It keeps me focused and will hopefully help push my pace up a bit!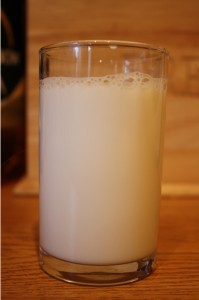 When I got back from my run of course I grabbed a nice cold glass of semi-skimmed milk.
I'm now about to pack my lunch for work and get ready for another full days teaching.  Dan pointed out last night though that next week I only have a four day week as I will be on a teaching course in Birmingham on the Wednesday, the following week will also only be a four day week as the Friday is Good Friday.  The following two weeks are Easter holidays and then we don't start back until the Tuesday, so another four day week! 

I do need to spend some time over the holidays catching up with marking, planning and tidying though.  But four day weeks when I HAVE to be in are much nicer than five day weeks!