Lunch yesterday was my last remaining pitta bread filled with two ham and egg slices, lots of carrot sticks, some cherry tomatoes and mixed leaves.  I'd taken a pot of pasta tomato sauce in to add to the salad but thought it would probably make my already full pitta extremely messy so decided to leave it for a salad dressing for tomorrow instead.  Dessert was a handful of grapes.  I actually had another handful just like this one that I picked through after school had finished.
After school I drove home for day 3 of the 30 Day Shred.  My arms are actually a little sore when change gears in the car now…so it must be doing something!  I'm also absolutely STARVING today!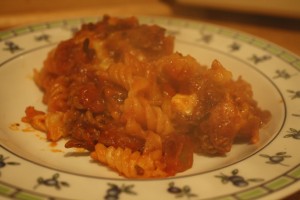 For tea I cooked the remaining beef from last night and mixed it into a pasta bake.  I just used a pasta sauce in a jar for ease – Homepride spicy tomato and pepperoni.  This meal was supposed to be with peas, but I completely forgot to put them in!  It was really hot when we ate.  You can see the steam rising up from the food in the picture!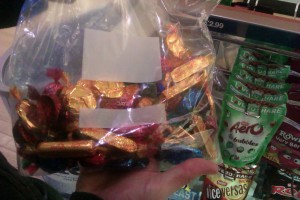 Yesterday was our date night.  We had arranged to go to the cinema to see 'Oz the Great and Powerful'.  We got there extremely early for us so browsed the food section for a little while.  Are they allowed to sell bags of Quality Street in freezer bags like this?!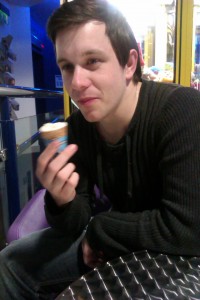 Dan grabbed a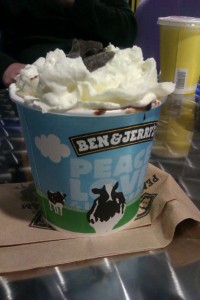 cone of icecream and some pic n mix.  I had a Ben & Jerry's core sundae – with Froyo Chocolate Fudge Brownie.  I hate chunks of chocolate in icecream so there isn't too many flavours I really enjoy, but I like this one! 

Oz was quite good.  I loved the start of the film, which was really detailed but felt that towards the end the quality really faded away and was a little rushed.  There were loads of big names in it – I only realised towards the end that JD from Scrubs was one of the characters.
I love, love, LOVE going to the cinema.  It is one of my favourite things to do.  My uni was all about ICT and film courses – all my friends were film students pretty much so lots of nights involved munchies and films, either in the lounge of people's houses or a student reduced rate ticket at the cinema.  Luckily Dan is quite into his films too and although he won't really talk running with me he will happily talk films, actors and directors!  My favourites are Amelie, Terminator II, The Butterfly Effect, Memento and The Black Swan… I like films that make you think!
What are your favourite films?  Any suggestions for films for me to watch?