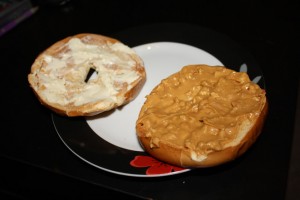 I had trouble sleeping last night.  I was pretty tired and went to bed early.  This meant that I was wide awake by 1:30am (don't check my last blog post time!) and didn't head back up to bed for another couple of hours – spending the time finding new blogs and applying for a job for September.
When I got up AGAIN at 6:15 I fancied more than the frozen yoghurt I had planned and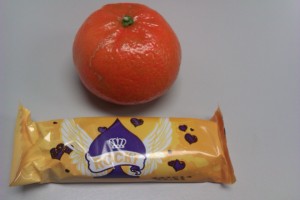 instead had a toasted bagel with half crunchy peanut butter and half white chocolate spread.
My lessons went by quickly at work today.
It was the turn of one of the Psychology teachers to bring in Friday treats today, but due to Red Nose Day events and various other happenings there ended up being only three of us meeting up at break.  I had a white bread roll with a ham slice inside, a mini sausage roll dipped in jalepeno houmous (this was really hot!) and a satsuma and Rocky bar (I managed to get a picture of these last two after shooting off for my period 3 year 8 lesson.  I also had a small cup of raspberry and cranberry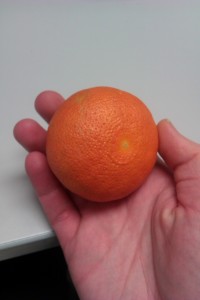 juice.
At lunchtime I grabbed a tangerine.  I've still got two more of these left and it was a massive pain to peel today!  The skin was all stuck to the actual fruit and my hands were covered in orange juice…it was pouring down my hands!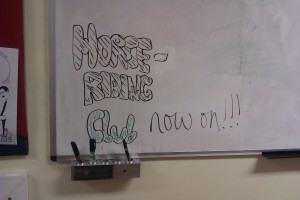 After school on a Friday I run Riding Club for years 7-9s.  Every other week we go to the stables.  The other weeks I run a stable management/horse knowledge session at school.  The kids normally leave me a message on the board whilst waiting for me to get the registers sorted and see the other kids on the bus off to the stables.  This was today's message!
I was planning on a short run after work but decided against it when I got home.  I've got a long slow run of 18 miles planned for tomorrow and a 5k race (which I won't race) on Sunday morning so decided to give my legs a rest tonight.  Instead I put in a Dr Oetker vegetarian pizza.  Anything with pesto or goats cheese is a winner for me!  Thinking back earlier, I had never had a pizza until I went to Uni at age 19 and even now I would never choose one if we went out for a meal – it's purely a lazy time thing.  These only take 10 mins in the oven.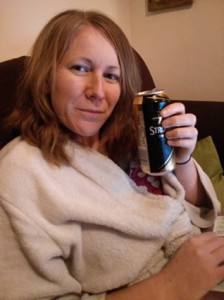 I'm now wrapped up in my dressing gown enjoying a Strongbow with Dan whilst watching the Comic Relief coverage on BBC after having completed the fifth day of my 30 Day Shred.  So far watching Comic Relief has prompted such Google searches as "How old is Lenny Henry?" [54] and "Where does Rowan Atkinson live?" [Apethorpe, which is actually less than 20 miles from where we live!]
Who knows what other Google searches we'll complete tonight!!!…