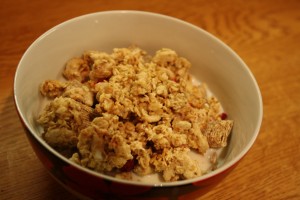 I got up early with the aim of doing day number 4 of the 30 Day Shred.  This didn't happen.  I was too tired to be jumping all around the living room at 5:45am!  Instead, I decided that I would complete the DVD after returning from run club later that night as I always have a ton of energy after going out with club.
My day of teaching seemed very easy for some reason..  Thursdays are my lightest day with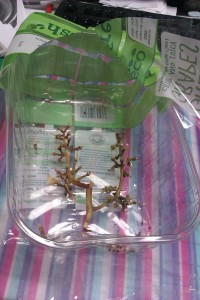 just two single lessons (year 10 and 11) and a double year 9 lesson.  All kids were really well behaved and all lessons went to plan.  Unfortunately I was pretty tired in my two free periods and didn't get a whole lot of work done – finding it really hard to concentrate on what I was doing.  I need some early nights next week…
I picked through the rest of my pack of grapes (no before picture. – oops!) and the cheese I brought for my salad at breaktime.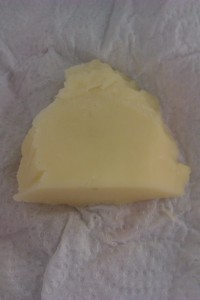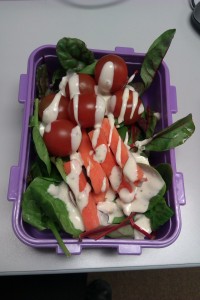 Lunch was the remainder of my salad items…mixed leaves, tomatoes, carrots and some ceasar dressing.  I was still feeling quite snacky this afternoon and had our school had food available I would have gone to get something else!
All the way through my year 11 lesson at the end of the day I really craved a hot chocolate.  By 3:30 it was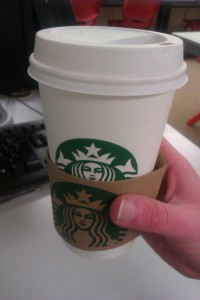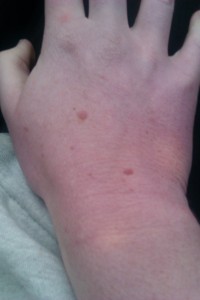 all I could think about so I decided to head to the train station (about 5 min walk from the school) to get one and refocus for marking after school.
Apparently the train station in town is too small even for a coffee shop but by this point I could not have returned without a hot drink.  My hands were freezing by now.  I headed into town with a 15 min power walk and into Starbucks.  Well, apparentally Starbucks is where all the cool kids hang out after school and was filled with students sipping hot drinks inside.  Mental note to live without a hot chocolate next time I get a craving!  When I did return to work I managed to get a few more year 7 projects marked before finishing for the day.  I have four classes of projects to mark by Monday.  So far I have marked 10 projects. 

I was still cold when I got home from work and was really not feeling running outside at club tonight.  I revved myself up and was really glad I did.  Quite a few people have recently moved from group 4 up to group 3, and the same has happened from group 5 up to group 4.  It means I'm no longer one of the slowest at the back of the pack and I'm no longer worried about people talking to me and me appearing rude because I have no breath left in me to answer them!
We were a little slower tonight I think anyway, but Heather also pointed out that the air had been a little warmer recently, making it easier for us to breathe when we ran.  We covered 5.91 miles and I burnt off 755 calories.  I spent a little while talking to one of the newer runners from the club that has just moved up from group 5 and is running her first half marathon next weekend.  It seems so long ago now that I ran Bedford half as my first half marathon in 2011!
I also got a chance to talk to Kev, our own crazy ultra runner man!  I had wanted to have a chat with him about Me wanting to run the Ultra four weeks after MK marathon for a little while now but kept missing him on club nights.  He says I will be fine.  Reassured me and I feel much more confident.  He is going to run with me on the day as he said that last year he went from mile 15 to 23 without seeing anybody at all and if I go off course in that time (very likely knowing my record with directions!) I will end up a very long way from home!)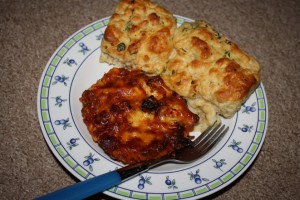 Dan had reheated the remaining pasta from last night for tea by the time I got home along with some garlic bread.  This meal is seriously lacking in colour!  Where were the peas?!?!
I quickly completed the 30 Day Shred DVD and pretty much called it a night after that.