Breakfast this morning was a toasted bagel with almond butter on and four squares of white chocolate to perk me up to head outside and run in THIS…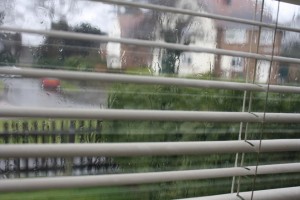 It wasn't actually too bad when I was running and I completed just short of 17 miles today.  I didn't push as far or fast as I could have done as I have booked in to race the Kettering 5k tomorrow morning.  After mile 13 I let myself have a few walk breaks and wasn't fussed about time but still got round in an average of 11min miles.  As usual I sipped on a Cherry Lucozade lite at each mile marker from mile 5.  (No pic)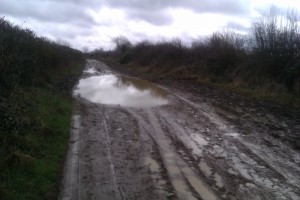 It was pretty muddy out because of all the rain we had this morning and I actually turned around when the path turned into this – turning around about a half mile before I intended to and ending up running 17 miles instead of 18.  When I got back I made myself a baked sweet potato with half a can of baked beans on.  I'm a big fan of regular baked potatoes with butter cheese and beans and was a little worried I would miss the butter and cheese on my sweet version but I shouldn't have worried as it was really yum!
I also finally got round to eating my orange and chocolate muller light yoghurt I put in the freezer the other day to trial how it faired as frozen yoghurt…another winner!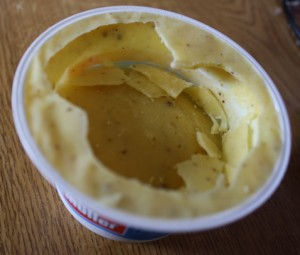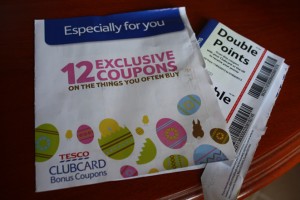 The lovely people at Tesco sent me a whole lot of extra Easter coupons to spend so I headed out for a big stock up shop which included lots more veggies and fruit than I would normally buy.  My aim is fruit for breakfasts, salads for lunches and veggies for tea this week, with as many inventive (for us!) recipes as possible!)
I snacked on a plum on the way home as I was craving something juicy but forgot to take a pic!
I also bought some tortilla wraps, so when Dan got back from the footy I fixed up a bean, sausage meat and cheese wrap for us both for tea.  I had intentions on adding a side salad to mine and chips to his, but I'm glad I didn't as I struggled to finish this as it was!
Now I'm about to start day 6 of the 30 Day Shred and sort out my race gear for tomorrow.  I have no plans for a PB after my long run today – my PB currently stands at 26m 55s.  I'm just aiming for a sub 30 mins without feeling too rubbish!