So, breakfast was supposed to be fruit this morning but I really fancied a bowl of cereal (it does have raspberries in it!) with some semi-skimmed milk.
I stopped with just this though.  I didn't go back for another handful and I didn't raid the cupboards to put off going to work that little bit longer either!
I was pretty hungry by breaktime so had both my morning and afternoon snack of a Granny Smiths apple and a plum.  Nice and juicy.  This apple has rejuvenated my love for apples once more!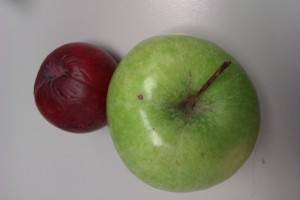 Lunch was supposed to be a tofu salad.  I added this to my shopping list especially this weekend.  I'm not a massive fan of meat and I keep seeing tofu being used as a substitute for us non-meat-lovers to pack in some extra protein!  However, I was too LAZY this morning to cook any so ended up with a block of cheddar cheese in my lunchbox instead.  But, this was definitely the BEST salad I have had in a long while!  It had some lettuce leaves, cherry tomatoes, grapes, sugar snap peas, mini corns, a block of cheese and two mini pitta breads.  I had some honey and mustard sauce but it didn't really need anything.  I love whacking as many different salad items as possible into one big salad to keep things interesting!  I found my bag of two remaining satsumas under my desk so tucked into one of those after school before starting to write year 7 reports  (grrrrrrrr…why do I have four classes of year 7s?!)  The IT technician suggested to me the other day (after my massive FAIL at peeling a satsuma without covering myself and everyone around me in juice!) that I roll the satsuma under the ball of my foot for two minutes before peeling.  This worked amazingly well.  If you too are having satsuma troubles, this is a great solution!
Dan's Mum made me a lunchbox carrier over the weekend.  (This is a rubbish picture of it I'm afraid.)  It holds my lunchbox perfectly and looks very cute in the process!  She's hoping to make a few to sell at a few craft fairs this Summer.  She's forever making crafty bits with hardly any effort at all!  This would have taken me a month!!!
I decided to attempt to make some enchiladas for tea.  I have never made, or eaten enchiladas before in my life and I always burn/drop/soggify my rice so this was rather ambitious…(I know this is meant to be pretty easy to make for most!  Haha!)
Dan taught me a trick with my rice today…rinse it through 3 or 4 times before cooking it to get the starch off of the rice before boiling.  I also put in about 3 times as much water as I normally do.  Result?  Nice fluffy rice (although way too much but I couldn't get everything right!)
Inside each of the four enchiladas I put half a sweet potato (STILL loving these even after eating them almost every day for the past week!), some of yesterday's left over chicken and some tomato sauce before pouring the rest of the tomato sauce over the top with some sprinkled cheese (again, probably too much.  Oops!)  It looked and tasted good though.  Dan rated it 8.5-9/10 on my list of cooking meals!
I was tempted by a small run when I got home tonight but still wasn't feeling 100% and today was a scheduled rest day.  I shall be at club tomorrow night though for a speed session.  I'm really excited about improving my times this Summer after reading about everybodys brand new PBs over the weekend!
I'm now about to catch up on a few blogs and get day 8 of 30 ticked off of the 30 day shred…I'm slowly getting there.  My arms don't ache at all anymore…bring it on…!