So, another 5:30am get up…this time to finish filling out a job application before the midday deadline.  All sent off on time and fingers crossed I hear something back!
Breakfast was half a can of mandarins and half a can of pear quarters, all mixed together with a few tablespoonfuls of fat-free vanilla yoghurt.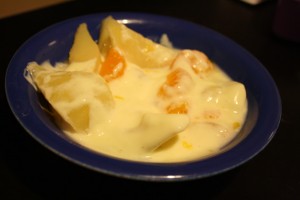 I was already feeling hungry by the time I got to school so had my morning snack pretty much straight away (8:30ish)  It was another Graze box – Pistachio nuts.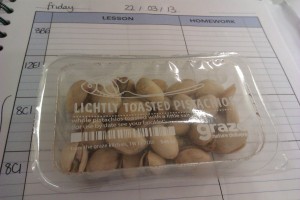 I allowed enough time this morning to cook the tofu I bought at the weekend.  I decided not to cook it in anything so that I could see what it actually tasted like rather than just taste the sauce (or it might actually have been because I couldn't find my soy sauce in the cupboard!)  I also chopped up a few button mushrooms and slung those in the frying pan at the same time.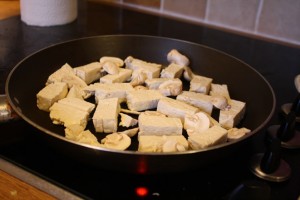 So my salad at lunchtime ended up consisting of two mini wholemeal pittas, three pieces of corn, a handful of sugarsnap peas, handful of grapes, four cherry tomatoes, lettuce, the mushrooms and the tofu.  I did end up dipping the tofu in some honey & mustard sauce.  It was kind of rubbery, but not in a bad way…?!  Next time I will cook it in some sauce.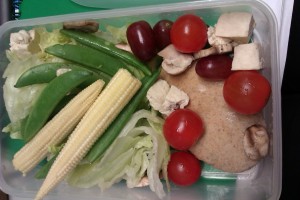 My afternoon snack was two juicy plums, although I was no longer hungry and could probably have done without these at this point.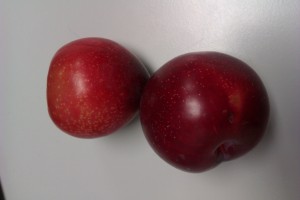 Proudest moment of the day: At an after-school departmental meeting a tin of chocolate biscuits came round.  The really nice sort.  I would never, ever have been able to resist free biscuits before.  The tin stayed in front of me for nearly the whole meeting and I didn't have a single one!  I said to myself that I wasn't really hungry, and a biscuit was nothing special…I could buy hundreds at the shop that were exactly the same, and I really didn't feel like I was missing out by not having one. 

At club tonight, Heather our coach had us working on 5 minutes jogging, straight into 5 minutes 5k race pace followed by 5 minutes jogging, etc…non stop for an hour in an attempt to keep our speed up for longer distances.  I really struggled tonight.  Not breathing or stitches or anything like that…I just literally felt that I could go no faster, and at times I ended up at the back of the pack. 

  After 40-45 minutes I was fine and my pace picked right back up again and I was able to have a few faster sessions towards the end.  I guess all my early mornings and lack of sleep have caught up with me and wrecked my energy levels this week.  756 calories burnt, and home to leftover enchiladas from last night, with a makeshift side salad of tomatoes, grapes, corn and lettuce.  I treated myself to a cake pop for dessert!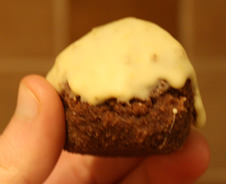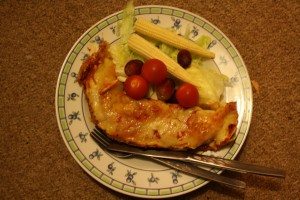 Yesterday I ordered some items from
JJB
.  I have been desperate for a new running bra for a while now, and wanted some more decent pairs of running socks.  After lots of looking around I decided to go with the
Karrimor Dri Socks
and
USA Pro Sports Bra top
.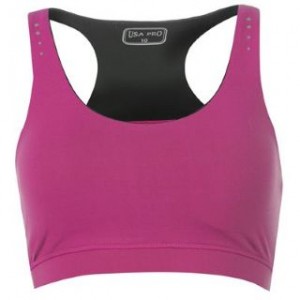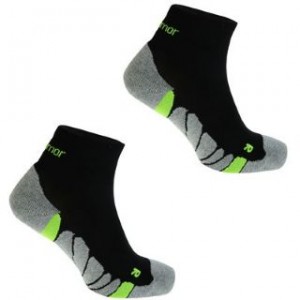 The package arrived whilst I was at work, so when I got home I threw on my new socks and new bra with the intention of testing both out at running club tonight.  Both passed the test just fine!  The bra was a little more jiggily than my current running one, but didn't leave any marks after wearing or make any of my skin feel sore and rubbed which is what has tended to happen lately.  I think I might properly test this bra out at Oakley 20 on the weekend.  The socks (yes, they are men's socks…I have big feet!) fit snugly but comfortably and again, were not an issue with my running.  No rubbing and they were high enough up the back of my foot to not be an issue with the high backs of my current trainers.  I have a new pair of trainers that I got in January that I need to start gradually phasing in now as well…It's always a worry with new running gear that it might rub or be uncomfortable.