The course I was sent on today for the new GCSE course we're offering students this year was literally the CRAZIEST course I have been on!  There started off being 24 of us at 10am.  By lunchtime we had dropped to 12 and when I left at 3pm I was one of 6 remaining people!
Anyway, up at 5:15 AGAIN to finish uploading cover lessons for today.  I'm pretty sure it takes longer to plan and write up cover than it does to teach the lesson!  I had a bowl of half mandarins and half pears with a couple of spoonfuls of vanilla yoghurt again this morning.  It looks like loads more than the other day but that's because I tipped all the juice in this time too.  I was getting quite stressed by the school computer network system being up/down and keeping having to reupload my work and losing it in the process so stress snacked on a cake pop from the batch I made at the weekend.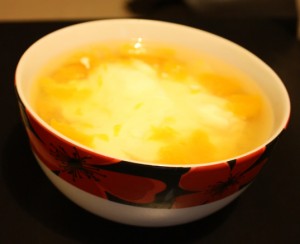 I hardly ever bother doing my hair or makeup or making a big effort with my clothes for school so wanted to make more of an effort today…however, this massive pile of clothes was the result of not being able to find my leggings this morning!  I ended up wearing a dress with tights and flats instead.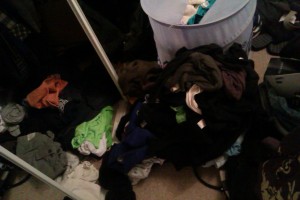 Not only could I not find my leggings but I also could not find my essentials from my makeup bag (brown eyeshadow, eyeliner and mascara)…quick pit stop was then made on the way to Birmingham to purchase new ones and makeup done in rear view mirror whilst sat in car park of hotel!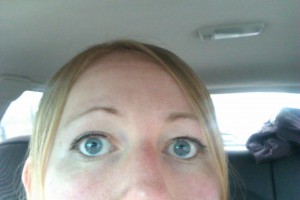 This course was the first I've been on where they've not supplied lunch!  Although good at the moment whilst I am trying to be more conscious of my food choices.  I snacked on a mini wholemeal pitta with tofu, mushrooms and grapes inside for lunch, followed by two Graze pots – Marvelous Macaroon – love this pot, amaretti biscuits, coconut, almond and white chocolate drops, and Salsa Fresca – always makes you feel good about yourself as it only has 51 calories! I passed on hot chocolates and biscuits all morning.  In the afternoon the hotel did bring out some scones with cream and jam though and I did help myself to one of these!  I've only had this once, whilst watching Wimbledon with Vicki about four years ago!
So anyway, the course was filled with several argumentative men who jumped straight into demands for why the specification for the course had changed and threw loads of demanding questions at the course presenter without giving her a chance to breath or barely introduce herself!  Luckily, my table were quite placid and I saw a few rolled eyes!  Whilst the worst of the arguing was going on I quietly sat and used my free notepaper to work out speeds for some new PBs this Summer and waited for it all to blow over!  The course was actually really helpful and I took a tonne of stuff away with me afterwards.  Worth going to.
I had arranged to have dinner with my friend Amy, who lives in Birmingham and is getting married in two weeks time.  She'd had a pretty rough week at work and we both needed some wine (2 glasses, not pictured!) and dinner and a venting catchup!  I chose Zizzis and we had a pesto and tomato flatbread to share.  I sensibly picked the Primavera Skinny Rustica pizza – a pizza that came with less than 550 calories and had slices of aubergine, artichoke, peppers, olives, tomato sauce, mozzarella and goats cheese on.  I'd never had artichoke before.  Have now!
Just home and completed my 30 Day Shred vid.  Tired now.  V.v.v.v.v.tired.  Two working days to go…!  And Dan has promised me a trip to the circus on Friday night!