Incase you were wondering, that stands for Personal Distance With Out Walking Best!
Maria texted and cancelled on me this morning.  Of course I wasn't going to let a few inches of snow put me off so layered up and headed out at 10am anyway after a breakfast of a toasted bagel with organic peanut butter.  (Can you tell that I didn't pick up the pre-sliced bagels in my shop this week?!)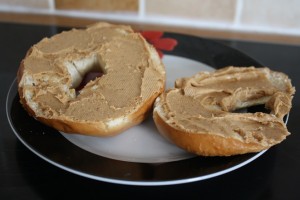 I had planned four circuits of a five mile route nearby (boring!) because of the weather, but the roads weren't too bad.  It wasn't even that cold anymore, and the roads had mainly turned to puddles.  There was still plenty of snow at the edges though and in the fields.  This meant an impromptu change of plan and I did a 10 out and back to a nearby town I've driven through lots but never run to before.  I really, really enjoyed my run this morning.  I took a sachet of jelly beans but didn't eat any, and just took a large water bottle with me – no Lucozade today.  Stats as follows…
Mile 1: 12:13 (including a slidy route up the hill to the top of my road and a warmup)
Mile 2: 11:28
Mile 3: 11:17
Mile 4: 11:17
Mile 5: 11:08
Mile 6: 10:54
Mile 7: 10:50
Mile 8: 10:50
Mile 9: 10:29
Mile 10: 10:44
Mile 11: 10:32
Mile 12: 10:32
Mile 13: 11:02  (BIG hill here!)
Mile 14: 10:46
Mile 15: 10:55
Mile 16: 10:51
Mile 17: 10:23
Mile 18: 10:50  (Here only one side of the road was usable because of the snow drifts…up to 1ft high on the left hand side of the road where it had blown across the field.)
Mile 19: 10:38
Mile 20: 10:49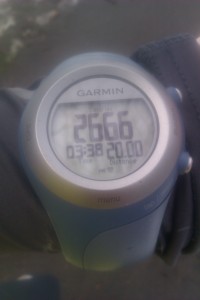 I decided to change the display settings on my Garmin today.  I normally have my Average pace bottom left, time big and distance bottom right but today I thought I would display calories nice and big.  AS IF I BURNT OFF 2666 CALORIES?!!!  Crazy!  I walked about half a mile as a cool down and then did some stretches before heading inside.  I grabbed a quick plum to hold me over until I could make lunch.  Never tasted better or more juicy!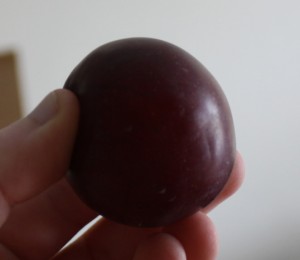 Lunch was AMAZING!  We still had two wraps left over so I grabbed one and basically threw EVERYTHING from the fridge inside!  It contained…sugar snap peas, mini corns, lettuce, cherry tomatoes, grapes, grated cheese and even some of the blueberries I defrosted for yesterday's pancakes.  I did really struggle to hold it all together but it was definitely worth it for this!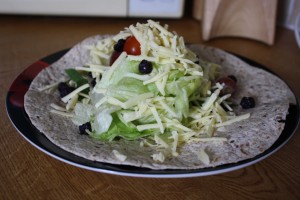 After lunch I grabbed a quick (or not so quick) bath (check out my wrinkly fingers!) and munched on some broken biscuits from the broken biscuit box we picked up at the weekend.  Am I the only one that goes this wrinkly?!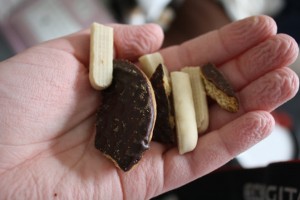 After my snack I worked solidly on my to-do-list (mainly school related, but also client website related) until making a casserole for tea – one potato, one sweet potato, a handful of frozen carrots and one of peas with some cheesy dumplings in two stock cubes made up.  Split between me and Dan.  I licked the plate clean!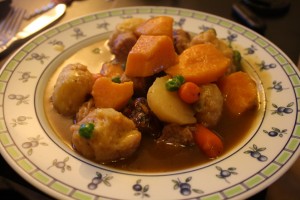 That was three hours ago, and since then I have STILL been working – mainly writing out cover lessons for Tuesday.  It actually takes longer to write the cover than teach the lesson normally. 

There, blog complete, break over, back to work.