Woke up still feeling exhausted just before 6am.  I had set my alarm for 6 so got up anyway.  I needed to use up the last of the blueberries, so had the same mix in my cereal as the last two mornings.  Back on the bagels tomorrow!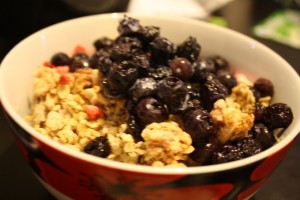 I felt pretty dizzy during my first two lessons this morning, which I put down to the lack of sleep I've had just lately.  At breaktime I picked at a Graze box.  Summer Pudding.  I quite like this one…yoghurt coated sunflower seeds, blackcurrants, sponge pieces and cranberries.  Both head and second in my department came in to my classroom to find out the result of my interview yesterday whilst I was munching away on this box!  Started to feel a little better and much less dizzy after break.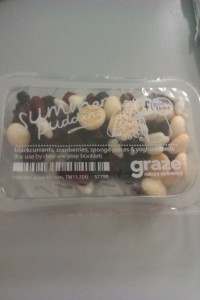 The second in department also brought me a mini Twirl bar in to bribe me for more information at lunchtime!  Which I followed up with two almost past it but extremely juicy plums!
Period 6 is a PPA period for me so I tried to catch up with some year 11 exam paper marking.  I began at 3pm…next thing I knew it was 3:20 and my face was pressed against the open sheet of one of the papers!  At least my door was shut and (to my knowledge!) no one saw me!
I drove in to work this morning with the intention on getting back early and heading out for a run.  My stomach was really rumbling at the end of school and I knew it wouldn't be good to run on empty so when I stopped at the petrol station on the way home I picked up the most nutritional low cal snack I could find.  Unfortunately, in a petrol station in the middle of Cambridgeshire at rush hour on a Wednesday afternoon the best I could find was a ham and cheese lunchables box.  I couldn't believe that this contained nearly half of my days salt intake in one package!  It cost me £1.99 as well!  I've never had one of these before but I can remember friends having them in their lunchboxes when I was younger.  It kept my hunger at bay at least.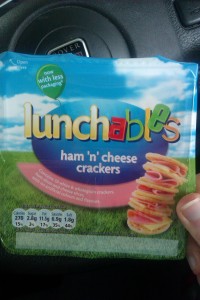 When I got back I quickly grabbed two loads of wood in for the fire and got changed into my running gear.  I intended on 6+ miles tonight.  Slow and easy.  Whilst I was getting the wood in my fingers started to go numb again but I ignored it and started out slowly.  I decided to take the off-road track which happened to head out past the doctors.  About half a mile into my run I looked down at my left hand which was tingly and all three of my fingers that I have had problems with had turned BRIGHT blue!  The same colour as my Garmin!  I wasn't far past the doctors so ran back to display my hand and see if they could fit me in for an appointment.  For the second time they could not and suggested trying my luck mid week day.  Why do people not understand that you can't just take days off work on the off chance you can be fitted in for an appointment?!  I continued with my run and got to four miles before Dan drove past and I begged him for a lift home.  My legs had nothing in them today – I was completely exhausted.  My splits were 9:59, 10:17, 10:06 and 9:43.  (Looking at this now, I realise how much I would have loved those to have been my splits a year and a half ago!  I can really see how much I have improved. 

  )
I'm not going to lie, my fingers really worried me this afternoon and my general tiredness I've had lately.  I know I've had a lot on but it's coming to the end of term now and I still really can't sleep!  Because I have the best boyfriend ever he let me run a bath and made us both a breaded turkey fillet with potatoes, carrots and peas followed by a hot chocolate (to help me sleep!).
I have decided that I will postpone the rest of 30 Day Shred – Level 2 until Friday, when school has finished and I can catch up on some of my sleep.  Running is more important at the moment with the marathon now less than six weeks away.  I am also going to try and keep track of my waking and going to bed times to see if I can notice a pattern and hopefully feel more alive again…!