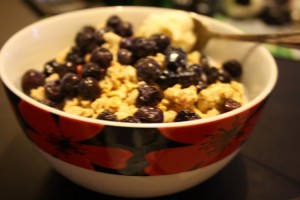 Catch up on yesterday's eats…
When I'm tired or stressed I tend to eat rubbish.  At least I started off with a nice healthy (ish) breakfast.  My usual bowl of half Jordan's strawberry cluster cereal and half blueberry wheats with the remainder of my blueberry pack thrown on top and all soaked in semi-skimmed milk.  And yes, that is a scoop of white chocolate spread on my spoon you see in the distance!
I was starving by the time they fed us on interview but sensibly chose a jacket potato with cheese and beans and an apple juice.  The other candidates were all choosing dessert and although I know I should have chosen some fruit, picked up a plate with what I was told was cheesecake on.  It tasted more like egg custard though.  Should have chosen the fruit!  I did look around but could see no salad bar at the school canteen.
After the interview I felt completely, completely exhausted.  Nobody can understand just how much I am looking forward to a lie-in on Friday morning!  I came home and ate some cookie dough.  Gah.  I then didn't want tea.  Dan couldn't be bothered to eat on his own despite me persuading him to.  In the end I sorted myself out a bit, stopped feeling so sorry for myself and baked a batch of cheese scones in the shape of hearts.  We both had a couple.  Hopefully today shall be a better day food and fitness wise.  I missed club last night because I was waiting for the phone call from the interview which didn't come until nearly 6:45pm.  I was too exhausted to move, let alone jump around to level 2 of the 30 Day Shred.  Today is a new day.  Hopefully I shall make some better choices today…