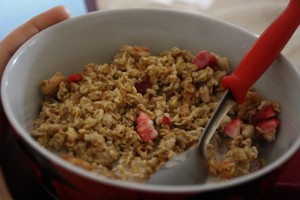 This morning was great!  I woke up at 5:40.  I knew I wouldn't be able to get back to sleep straight away, so caught up on some blogs for about an hour from bed before heading back to sleep just before 7am and sleeping through until 9.  Lovely!  Dan brought me breakfast in bed.  I've run out of blueberries, but I had half blueberry wheats and half Jordan's crisp cereal with strawberries and semi-skimmed milk.  We then stayed in bed to finish watching the ENTIRE first disk of The Long Way Down before getting up around midday.  I hate laying in, but I desperately needed to after the past couple of weeks.  Bella watched us from her vantage point on the windowsill!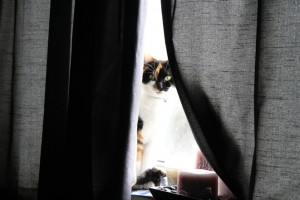 We decided to head to Beans for a relaxed late lunch.  I was quite hungry by this point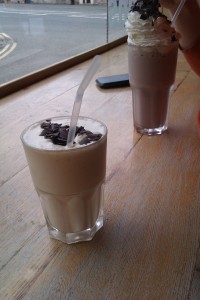 and I swear my belly had flattened and shrunk due to lack of food!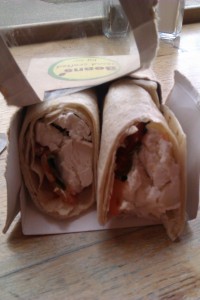 I grabbed a goats cheese, rocket and tomato wrap with a child size vanilla milkshake, no cream.  You can see Dan's milkshake in the background loaded with cream!  I also grabbed the side salad from his toastie when it arrived.  Whilst we were in Beans, two club runners came to say hello.  Beans is the place to hang out if you go to my running club! Everytime we've been I've recognised somebody!  They were eager to tell me that they had just completed a 20 mile training run.  Didn't have the heart to tell them I'd just gotten out of bed before slurping on my milkshake!
When we got back I started the fire and had a sit down for quarter of an hour before heading out for a five mile easy run.  (Much easier than the 'easy' sections of our run at club last night!)  Mile 1: 11:01 (inc warmup), Mile 2: 10:36 Mile 3: 10:10 Mile 4: 9:40 Mile 5: 9:45  I also bumped into another club runner who I ran with for a while when I was in group 5 just after the Summer last year and who has recently moved to my town.  I bigged up the route I was running as a nice 5 miler that had quiet roads.  At about mile 4 I was stopped by an old couple (one with a zimmerframe) who wanted to know where the road I had come from went.  I told them that it looped right back round to the town again.  When they asked how far it went and I replied "4.7 miles" the woman's eyes literally shot wide open!  Not sure if it was because I knew exactly how far it was or that I had come that distance?!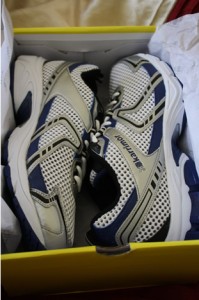 I had bought some new running trainers a couple of months ago with the intention of breaking them in to run my marathon.  I keep forgetting to take them out on my short runs so pulled them out of the box today to discover they were a half size too small so I'll have to take them back and exchange.  Hope I can do this and still have enough time to break them in before the marathon!
After my run I snacked on a heated up chocolate chip cookie before I showered while Dan made tea.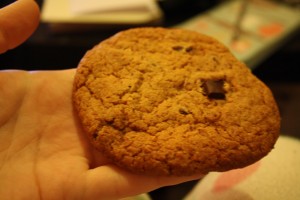 We had breaded fish, chips and peas…it is Friday after all…fish and chip day!  I'm not a massive fan of chips and don't think I had ever cooked them until Dan and I got together!  I always keep some in the freezer spare for him now as he likes to have something quick and easy when he makes tea.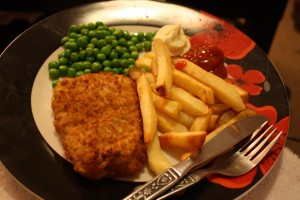 We watched Django Unchained tonight (with a second cookie) on the sofa.  This was a really long film.  It's Quentin Tarantino and reminded me a lot of Oldboy and Kill Bill, neither of which I'm a great fan of either to be honest.