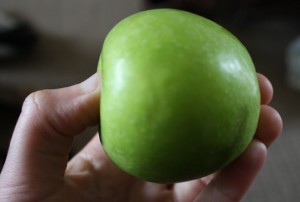 This blog has helped me to rethink the food I eat and although I'm still not a saint at choosing my foods I have noticed that I am now much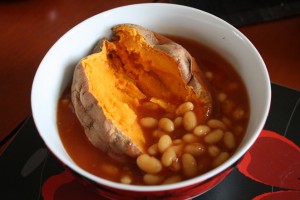 more likely to really think about what I am eating.
After my Parkrun yesterday I snacked on an apple whilst doing the shopping.  Two years ago, this would quite likely have been a biscuit.  For lunch I then had a sweet potato with a can of baked beans.  This was very filling and kept me full all afternoon.
Last night was the engagement party of our friends Vicki and Alex.  They got engaged over the Christmas holidays when the four of us all visited New York for New Year.  Dan and I had actually known about the proposal since we booked the trip!  I will be one of the bridesmaids on the big day on the 4th April 2015 and Dan will be an usher.  Here is a picture of the four of us in New York.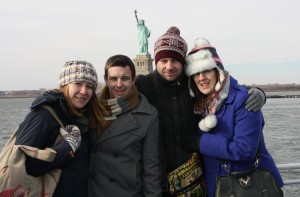 Vick and Alex had booked a room in a local pub, The Fox & Hounds in Peterborough.  It was good to have a catchup with everybody as well as meet new people.  I've known Vicki since I was 21 when we were at uni together and we got on from the very beginning.  Just clicked!  Most of my friends at uni were guys but Vick was the exception to the rule and after finishing my PGCE we have even ended up living quite close together when I was offered a job in Cambridgeshire.
I decided to dress up last night and plaited my hair in the Waterfall Braid Updo as shown on the Six Sisters website the other day.  I really liked this and will probably do my hair this way for my friend Amy's wedding this coming weekend.  Unfortunately the only pictures I have are on Vicki's camera so I will have to wait for her to upload them to Facebook.
Our friends Stew and Julie came down from York for the weekend.  We're going to their wedding in December.  We were also at a table with Kate and Justice, who also got engaged last year, and sat over on another table two of Vick's friends from school are actually getting married next week.  Three different people quizzed me last night on why I wasn't married/engaged.  I hate getting asked this and normally try and avoid the question as best I can.  We should hopefully be able to avoid it a little more with Dan's family now at least as his younger sister had a baby last year and his brother got engaged this week so hopefully it will all be about them for a while!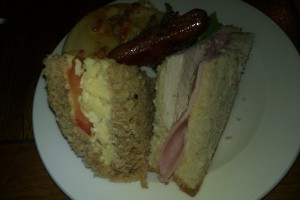 It's not often that we go out with friends anymore so Dan and I made the most of it by leaving our car at the pub and having a few drinks.  I actually had two large glasses of wine and then two glasses of champagne for the toasts.  I chose a small side plate for my meal and picked up a quarter cheese and tomato sandwich on brown bread, a quarter ham and turkey sandwich on white bread, a sliver of garlic flatbread, a cocktail sausage and some lettuce with slices of tomato.  I avoided all pork pies, sausage rolls and other heavy items that several people were loading their large plates with.  I did however, also grab some cake action when that was cut!  As always, Clare, (another bridesmaid-to-be!) made a fantastic cake!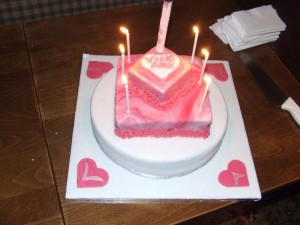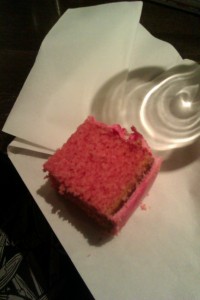 I made sure to drink lots of water before bed and we probably got to bed around 2:30am (the new time!) on the pull out sofa bed in the lounge.