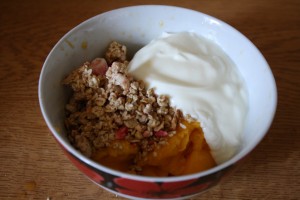 Erm, it was actually 2am last night/this morning when I finally got my butt off the computer and to bed.  Dan had gotten fed up about 15 minutes earlier.  I was still attempting to tweak the site layout to get it perfect (still not there but at 2am I felt bed was calling me more than the laptop!)
This meant laying in until 9am…not even stirring until 9am.  I'm pretty sure I haven't done that since my uni days!  It also meant I was ready for breakfast when I got up.  I had the other half of my mango, a third of a bowl of Jordan's strawberry crunch cereal and a couple of large dollops of Low-fat yoghurt on the side.  All three elements at breakfast was a lovely meal and fresh fruit is a million times better than the defrosted fruit I have been having over the past couple of weeks.
We were supposed to go to the cinema at 11:30 but Dan slept right through until…11:30!  How can anyone sleep that long?!  Instead, as it was so sunny (I think my face is even a little burnt today!) we hopped into the car and drove to the local country park and spent two and a half hours exploring in the nice weather.  It was really pretty out and no-where near as muddy as I thought it was going to be after all of the snow and rain we have had lately.  This was Dan's first visit to the park, but last Summer my running club regularly ran through it as part of our training.  (There are some trails with massive hills!)  Over winter it's too dark to run but now the nights are light again (Thanks Daylight savings!) I'm sure we'll be heading there soon.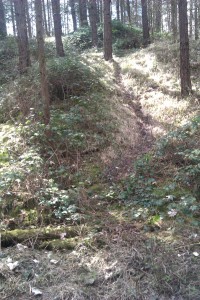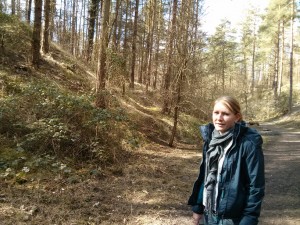 At one point as we were walking through a particularly dense patch of woodland Dan turned to me and said "Do you think there are any deer in here?" And as he said that he made one jump from right in front of us and bound off into the distance!  We saw the deer several times on the trail.  It was just a little muntjac deer.  Before we got together Dan had never seen deer before…when I had a horse on loan before uni I would literally ride right alongside whole herds of deer!
Two and a half hours of trail rambling deserved the first Mr Whippy icecream of the year!  (Notice I couldn't actually wait to take a lick before taking a picture!)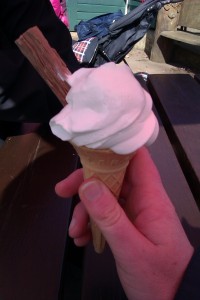 Dan also grabbed a burger whilst we were out but I waited to get home to a chicken sandwich on Best of Both bread.  I added smooth peanut butter on one side and also popped in some sugar snap peas.  Dan is onto me with my lack of protein at the moment too.  Last night when I went back after my pathetic roast to grab a slice of bread and butter he said I should reconsider some more chicken instead.  Of course I listened to me still and had the bread and butter, but it's nice to know that he's supporting me in my food choices and seeing that recording and keeping track of my food against my training is helping.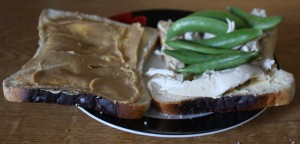 I think my protein filled sandwich helped tonight because I had loads of energy at club earlier!  When I arrived I discovered that group 4 were not going to be running, but instead completing circuits in the hall.  I was a little disappointed as going to a wedding rehearsal one day and a wedding another, both in Birmingham – 2.5 hours drive away means I will have limited time to run this weekend.  Also, with the clocks changing and the lighter nights, there are lots of routes we could have taken that we haven't been able to access for several months.  However, I got over my disappointment and put my all into the session.  Heather was in the hall, but it was being run by Keith, who usually trains the top group.  There were 13 different stations; Spotty dogs, lunges, burpees, fast feet, squats, plank, shuttle runs, press ups, bench step ups, skipping, crunches, bicep curls and back extensions on a ball.  We did a few warmup exercises then 30 seconds at each station, a short break, 45 seconds at each station, another short break and a final 30 seconds at each station.  I'm glad that I've been working on Jillian Michael's 30 Day Shred because otherwise I would have been shown up for my lack of flexibility/strength!  The strength in my core has improved over the time I have been completing the DVD.  BURPEES ARE THE HARDEST EXERCISE EVER!  I've heard people talk about them on blogs but never really knew what they were before.  You have to go from a standing position, jump down onto all fours, jump out with your back legs so that you are kind of in a press-up position, jump back so all hands and feet are together again, jump up and do a star jump!  My thighs hurt!
When I got back Dan hadn't quite finished making tea so I got in a quick 1.51 miles run around the edge of town.  It felt good to stretch my legs!  12min 46sec – average pace = 8m 26s per mile.  Including two short sharp hill stretches too!
Tea was 'an experiment' as explained to me by Dan!  But a very tasty experiment!  He thinly sliced some potatoes and made up some garlic cheese sauce before layering the potatoes, sauce and small slices of cooked chicken in a pie dish.  Three spoonfuls of peas accompanied this dish and I ate every bite!