I woke up in a much better frame of mind this morning after my weight melt down yesterday and packed for Amy's hen do part two!  A day of relaxation in the spa followed by the wedding rehearsal in the evening.  I grabbed the remainder of my Jordan's cereal (there weren't actually many strawberry pieces left this morning) with four big spoonfuls of natural low-fat yoghurt.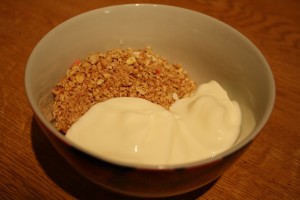 I'd planned to leave at 7am but it was actually 8:10am when I left…oops!  I snacked on two tiny mini easy-peel clementines on the drive down.
There were sixteen family and friends all robed up for the day and working out/relaxing/getting treatments.  I'll be honest, I wasn't really looking forward to it beforehand but really enjoyed myself when I was there.  I got a mud treatment with Amy and another of her friends, Vicky not long after we arrived.  I've never had a treatment done before and this one was a guy's dream!  Basically we had to cover each other in thick mud and then go and get into a mini sauna-type room.  After 40 minutes jets came on to wash us down and there was a hose for us to hose each other down in the bits that hadn't gotten washed!  Haha!  I realise how wrong this is sounding!
Afterwards I got changed into a different costume and hung out reading Women's Running by the pool for a bit before jumping in to cool off and swim some laps. We then headed to the steam room before robing up again and heading to the conservatory for lunch.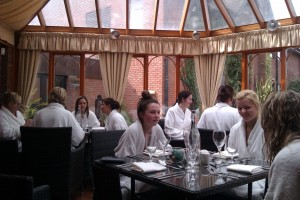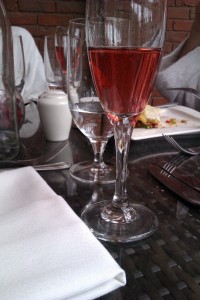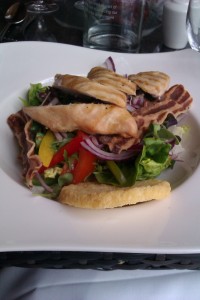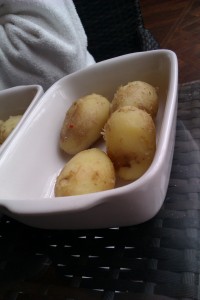 We each had some sparkling rose wine and I picked the Chef's potato salad for my mains.  This came out with a chicken breast on top.  Still not a massive fan of chicken, especially chicken breast so I left it to the end planning on not eating it.  I had tried it and having to chew so much really put me off eating any further.  The salad was lovely and came with peppers, cucumber, tomatoes, lettuce, olives and onions.  The new potatoes were lovely too.  Reluctantly I slowly made my way through the chicken breast after finishing my potatoes.  I really did have to force it down though, telling myself that I was supposed to be eating more protein and should have checked what was in the salad to begin with.  The salad was really filling, especially after having finished the chicken and I felt uncomfortably full afterwards.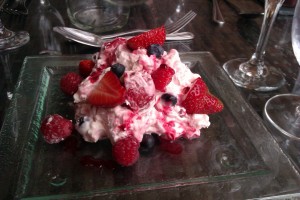 However, I could not resist the eton mess I had ordered for dessert!  This is the first place I have seen these served in 2013.  My favourite dessert ever!  And I was very happy to see that it contained not just strawberries but also raspberries and blueberries too!
When leaving the spa we headed to Amy's to meet up with the boys and then to the church for the rehearsal.  I am going to be a witness at the wedding on Saturday so needed to see where to go!  The groom has four ushers so lots of jokes were made and messing around done, probably taking us a lot longer to run through the service than it should have done!
When I finally got back to mine it was nearly 10pm and I was hungry again after my lunch at 2 so grabbed a quick bagel before catching up with the day's blogs.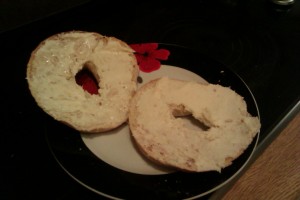 I had planned to stay up in Birmingham tonight at Dan's parents so that I could help set up for the wedding in the morning but Amy assured me that they are pretty much done with organising and to be honest I am looking forward to having another day at home without rushing around.  I'm becoming so lazy…how will I ever go back to working 60 hour weeks?!?!