Yesterday I had to purchase a new swimsuit ready for a spa day today for a friend's hendo. I headed to Tesco yesterday afternoon for some cheap deals, pulled out two bikinis and two swimsuits all in a size 12. Well…I looked horrific and crammed in when trying on all four outfits! I haven't had to buy size 14s in the longest time but yesterday, I purchased a size 14 costume and am actually not really looking forward to the spa day at all.  It would be different if I knew the other girls on the hendo, but I really only know the bride.  The other girls going are all teeny tiny little size girls with flat stomachs.  This is my get serious moment.
Ideally I would like to lose about 2 stone which would take me down to my lightest and happiest weight.  I know it's down to me to do and that I need to really focus on what I am putting into my body.  I workout plenty, it is down to the food and making better choices.  I am improving with my choices, but not as much as I need to.  Expect a typed up plan of action over the next few days…!…
My day started off with a 7:30am get-up and a toasted bagel with smooth peanut butter on.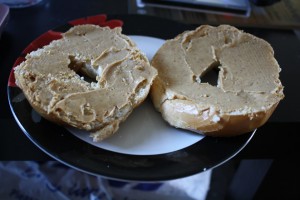 I then took ages to gear myself up to go running even though it was quite sunny outside.  I didn't leave until 9:40 and when I left Dan was still in bed.  This made me feel a little guilty as this is the last chance for us to really enjoy a lay-in together this holiday and if I'd have left straight away I would have been back before he'd even woken up.
The aim was to complete 9 miles at a steady marathon pace and I really wasn't feeling the run this morning.  At mile 3.5 I could feel my little toe rubbing the toe next to it and told myself I would stop when I got to mile 4 to sort my socks out.  Fortunately by the time I got to mile 4 my toes were no longer rubbing so I carried on.  This run was all about mind games.  As I got to mile 6.2 I realised that I had not kept to the rule of 'bring water if running over an hour and bring fuel if running over an hour and a half'.  Fail!  This then also meant that my head kept shouting at me for being so stupid and demanding that I stop.  I ignored my head and decided to run to mile 7.  I convinced myself by that point that I would be so dehydrated I would have to stop before I collapsed in a heap on the side of the road.  Of course that didn't happen so I told myself that there were only two miles left to go.  I didn't have to run them fast but I would be back in 20 minutes, hardly any time at all.  Luckily, I managed to control my thoughts and ran the whole 9 miles without stopping.  An entirely mental thing today and I proved that I could overcome it.  Splits as follows…
Mile 1: 10:23
Mile 2: 10:45
Mile 3: 10:33
Mile 4: 10:27
Mile 5: 10:26
Mile 6: 10:31
Mile 7: 10:20
Mile 8: 10:01
Mile 9: 10:09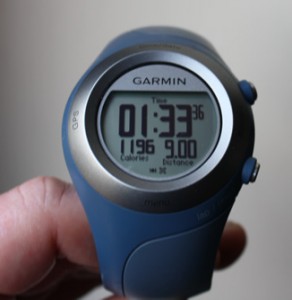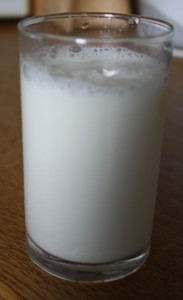 Of course, afterwards I had two glasses of water and my post-run glass of semi-skimmed milk!
I grabbed a quick shower and crawled into bed with Dan afterwards who was working on his laptop from bed.  I felt really exhausted and actually fell back asleep for a few minutes before getting round to making lunch.  I grabbed a Graze box (Strawberry milkshake) as Dan had only just had breakfast and I knew he wouldn't want lunch straight away.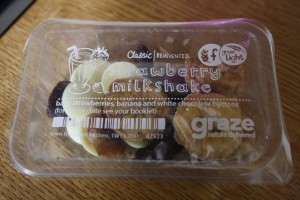 I've been nagging Dan to mow the lawn as it's been so sunny the past couple of days.  Luckily he finally took my *subtle* hints and got out there today after requesting a stuffing and chicken sandwich for lunch.  This I made for him, and added cranberry sauce to my version of the sandwich.  When I nipped to the shop to grab some stuffing I passed the bakery, which still had lots of cakes left in the window, so I grabbed a top-hat for us each.  These are my Dad's favourites and he can never resist getting some of these when he comes to visit!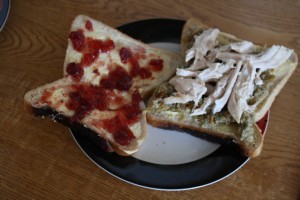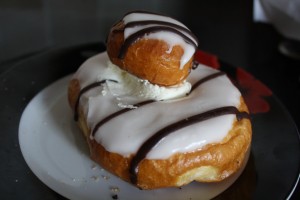 We had arranged to go to The Dogs with our friends Vick and Alex last night.  On a Wednesday night you get entry and a meal for a £1.  We'd been with them before and really enjoyed it.  I was a little nervous about the food choices as last time it had just been hotdog and chips, cheeseburger and chips, chicken nuggets and chips, etc.  This time though, they also had jacket potatoes, so I grabbed a jacket with cheese and beans and a side salad (that I added way too much mayonnaise to!) with half of a Strongbow.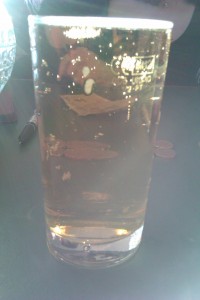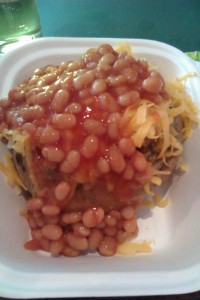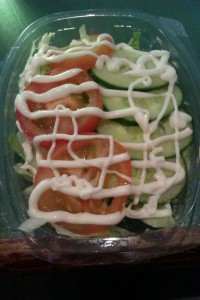 The queue for food was ridiculous and the people serving were moving incredibly slowly.  Despite being one of the first let into the racecourse Vick and I queued for over 45 minutes!  When we were nearly at the front I felt somebody push into me and the larger lady that had been stood behind me fell across both Vick and I landing across my shoulder and pinning me to the stools.  I lowered her to the ground.  Another guy in the queue ran over all panicky and kept shouting out what could he do?!  I told him to go get some water and asked anybody if they had a jumper to put under the lady's head.  Another queueing customer was a paramedic so she took over and snatched a magnum icecream from the icecream stand to give to the collapsed woman who hadn't eaten anything for a while.  We had been stood upright for a long while and that was probably what made the woman collapse.  Luckily she was fine by the time we got served and all colour had returned to her face.
Here's some pictures of us pre-race…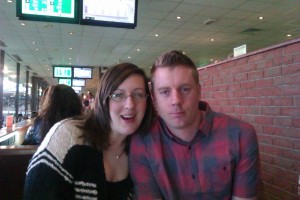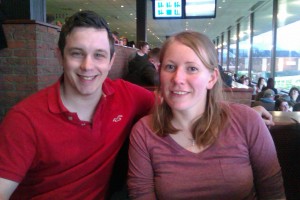 And one of Dan deep in (posed) thought choosing his dogs…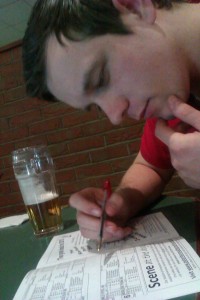 And some of our winning tickets!  We won four times in total over 11 races.  (Only about £3-4 each time.)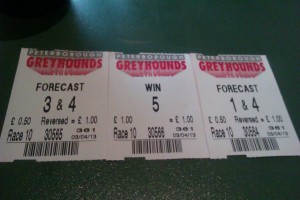 Afterwards, the others were still hungry so went to grab a McDonalds.  I'm not a fan of McDonalds at all, and wasn't hungry anyway but knew I needed something sweet to nibble on to keep me awake for the drive home so grabbed a chocolate muffin.