…don't eat a slice of rich chocolate cake an hour before your 5 mile run!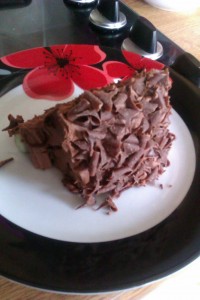 My run this afternoon was super speedy without having planned it to be.  I aimed to run a steady 5 mile run at approx 10-10:30mm pace.  My garmin was ages finding signal for some reason so I was already a half mile into my run by the time I clicked the start button on the watch.  I was finding my legs quite laggy and not really wanting to move quickly.  But, when I glanced at my watch as it beeped to let me know I'd run a mile I saw 8:49mm pace!  No wonder my legs were so laggy.  My head thought I was running 10:30mm!  I decided to continue running at this pace, if I ran out of energy I would just slow it down to an actual 10:30 pace!  Just after mile two I slowed to a walk for a few seconds while I removed my jacket to roll up my sleeves.  It was deceptively hot this afternoon!  At two and a half miles my stomach was making awful churning motions and just after the third mile marker I had to quickly leap behind a hedge where my body rejected the cake. 

  However, I felt a lot lighter for the remainder of the run and my splits are as follows…
Mile 1: 8:49
Mile 2: 9:19
Mile 3: 9:25
Mile 4: 8:58
Mile 5: 9:06
If I had been running a 5 mile race it would be a new PB for me even when including the walking time and hedge jumping time!
Back to my day…would have made more sense to start at the start wouldn't it?!
Breakfast was a new cereal for me.  Tesco Special Flakes.  I'm pretty sure they're new in store too.  They have less calories in than the Jordan's cereal and are a lot cheaper for pretty much the same contents…  This went with almost the last of my low fat yoghurt.  I will have to come up with some new breakfast ideas next week.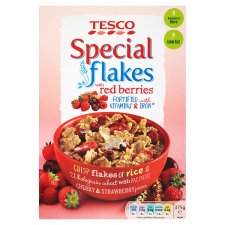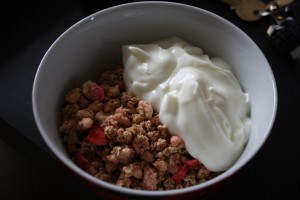 I needed to get some new shoes/sandals for Amy's wedding tomorrow.  My feet are
horrible
, very
ugly
and
impossible to buy shoes for
!!!  They are a size 8/9 (which is quite large for UK women.  Most shoe shops only stock up to an 8.)  They are also extremely wide and fat and I also have a high arch!  Because I'm quite tall anyway, and the same height as Dan I don't often like wearing heels and at times I have the runners curse of black toenails so don't always like to show off my toes without three coatings of a bright nail varnish to cover the rotting toenail!  So I HATE shoe shopping!  Dan seems to love shopping for me though and always convinces me to try on items I wouldn't normally buy and then end up buying them!  Today he convinced me to look for a new dress for the wedding as well.  After looking in several shops I found this dress in TK Maxx which will go perfectly with the white sandals I found in New Look.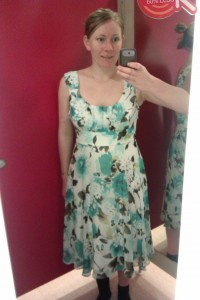 After we had finished shopping we were both starving and both suggested at the same time heading to Subway.  My stomach was just aching by this point.  Not grumbling, but aching…?!
As always, I had a 6 inch meatball marinara on cheese herb bread with tomatoes, sweetcorn, lettuce and peppers.  No added sauce but lots of the neapolitan sauce.  I love tomato based sauces.  When I worked as a restaurant manager I used to make my own mega salads for my lunchbreaks and then pour a big scoopful of neapolitan sauce over the top each day.  Yum!
I wonder what the most popular sub is?…I haven't even tried any of the other sandwiches!…Do they have the same selection over in America?…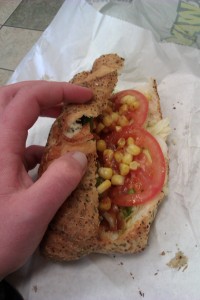 When we returned from our shopping trip I ate that fateful slice of Easter cake (pictured above) 

and went for my run.  For tea I tried a new experiment…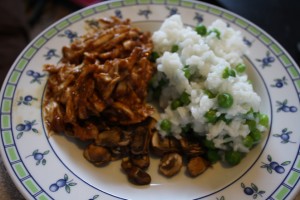 A while back Dan had wanted us to make our own satay sauce as it's one of his favourite dishes from the chinese.  Chinese takeaway/restaurant dinners become really expensive and it's difficult to know exactly what goes into each dish so tonight, I attempted to create my own chicken satay dish!
I basically made it up as I went along as every recipe I found online called for different ingredients and amounts.  I mixed two large spoonfuls of smooth organic peanut butter with a long pour of dark soy sauce, a spoonful of caster sugar, a squirt of semi-skimmed milk and a dollop of low fat yoghurt (as it was just sitting in the fridge next to the milk doing nothing!) together before heating up in a saucepan and mixing in with tiny ripped up pieces of the remaining chicken I cooked for the roast on Monday night.  On the side I served boiled rice with peas and I had a few sliced mushrooms as they have been sat in the fridge a while now and need eating up.
The meal was a success and Dan has labelled it as one of his top 5 so shall be repeated in the future!