A quick catchup from yesterday's fun and eats…
We woke up at the hotel after Amy's wedding about 9am having neither of us had very much sleep.  We had only paid £25 for the night for the both of us and the walls were dead thin in the room so we had heard everybody's arrival to their rooms all night long.
We packed up and headed out for breakfast.  Initially we had intended on finding a little cafe or sideshop but as it was before 10am on a Sunday there wasn't a lot open.  Eventually we found a Co-op that made breakfast baguettes to order and Dan and I each picked up an egg and sausage bagette for breakfast.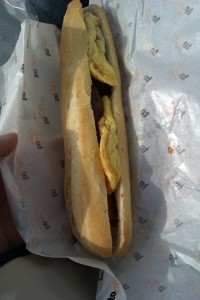 I needed that extra protein this morning after having had very little at the wedding.
We stopped by to see Dan's Nan on the way home, as she lives in South Wolverhampton.  She's always glad to see us and we try and visit everytime we are over that way.  Even though she lives a couple of hours away we're often back to Dan's homeland for various friend's events or Dan heads back just to watch the footy on a Saturday!
Afterwards we headed back to Northants and were so exhausted in the car we barely spoke to each other, just singing along to the radio!
Dan had footy practice when we got back so he grabbed a bowl of cereal and headed out.  I had intended on going for a run but at the last minute decided to complete Level 2 of Jillian's 30 Day Shred and follow this with a four mile walk so that I could call and speak to my Mum because I hadn't spoken to her all weekend.  I think she appreciated this and it was lovely and sunny still outside.  Perfect weather for a walk!
When I got back from my walk Dan was already back from footy and requesting a pasta in sauce for tea.  I decided to cook two at once in the same pot.  Point for reference: Don't do this again, it doesn't work and you just end up with lots of sauce sat on top of the pasta afterwards.  This wasn't colourful enough for me so I broke up a handful of sugar snap peas and a handful of mini corns and threw this in too and then just ate my share from the cooking jug.  The sugar snap peas and corn were a great addition but I was so full by the end of this dish I could barely lift the fork to my mouth!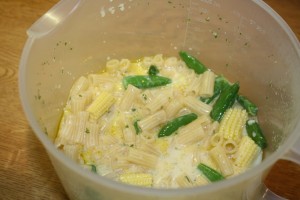 My friend Amanda lent me about four Africa-themed DVDs last Summer before I went to Africa on a school trip with some year 11s.  Erm…I never actually watched any of the DVDs and I am seeing Amanda on Thursday for another friend's engagement meal so thought I had better get through a couple!  Last night Dan selected Blood Diamond for us to watch from the list with Leonardo DiCaprio.  Leo has made some fantastic films in the more recent half of his career.  Dan and I are both fans of Inception, Shutter Island and Catch Me If You Can.  Blood Diamond didn't disappoint.  I really liked this film and rated it a 9 on IMDB.  I have to rate films once I've watched them.  My OCD kicks in if I don't!!!  I did however wake up briefly early this morning convinced that one of my year 10s was trying to kill me with a machine gun!  Maybe it wasn't the best film to watch right before bed!
Dan has headed back to work today.  I still have 8 days off (I can't believe I've already gotten through 10 days of holiday.  That makes me sad. 

   )  This morning I am heading out for a 22 mile run as soon as I have blogged and let my breakfast settle.  This will be the furthest I will run before the marathon.  FOUR WEEKS TODAY UNTIL THE MARATHON!  Please bet on my finishing time, even if you don't know me, you might win some money 

and most of the money you bet will go towards MacMillan Cancer Care who have helped my Mum out loads this year.