Yesterday I completed my longest training run EVER!!!…TWENTY TWO MILES!!!
Dan was back to work yesterday after having had a week off over Easter.  I still couldn't help but wake and get up when his alarm went off at 6:20am though.  I'm rubbish at lying in!
I grabbed my usual pre-run breakfast of a bagel with smooth peanut butter…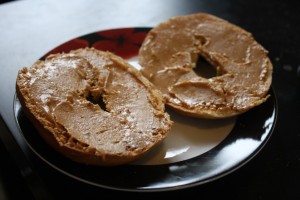 I finally got out the door at about 8:30am.  Why does it always take me so long to get myself round in the morning?!  My run ended up being a lot steadier than planned but I didn't mind too much, it was all about getting round the 22 miles yesterday rather than worrying about speed.  Time on feet was the important issue here and this was my last long run before the gradual taper for my Milton Keynes marathon in four weeks time (four weeks?!…EEK!)  Next week I plan on running twenty miles, two back to back eights the following week and a ten miler the week before the marathon.  I'm trying not to taper too early, as I still intend on completing the 35 mile Shires and Spires race on June 2nd just four weeks after my marathon.

My splits were as follows… 10:59, 11:13, 11:07, 11:06, 11:18, 11:20, 11:23, 11:14, 11:03, 10:59, 12:05, 12:43, 10:58, 10:55, 13:11, 11:05, 10:53, 14:35, 11:05, 11:05, 11:03, 11:26.  Basically, any miles over 11:30 involved some sort of walking – tying shoelaces, grabbing a drink, etc.  I'm very stuck in my ways and refuse to stop and start my Garmin as I stop and start for various things.  The race clock wouldn't be stopping and starting!  (Also, I'd probably forget to start it again and get really annoyed!)
The weather was great for running.  Warmish, not windy and a little overcast.  My ideal running weather!  I had loads to think about on my run today (my plan for my remaining days off, making Amy a post-wedding gift, organising house jobs the rest of the week and wondering just when I'm going to fit in the rest of my marking this holiday!!!)  I also fraction off my runs as I go which is getting to be a really annoying habit!  Eg; I've run 6 miles, that's 1/3 of an 18 mile run, or nearly 1/4 of a marathon or almost a 10k.  Trying to get out of this habit…especially early on in a race when I'm one mile into a 22 miler!!!
When I got back I realised why my toes had felt all weird.  Look at my socks…!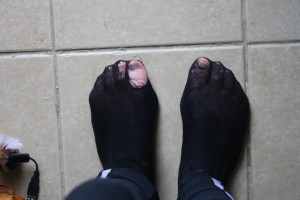 I do run with two pairs of socks on.  These were my base layer, and then I put actual running socks over the top to prevent any blisters, but these are now going straight into the bin!!!
I was pretty hungry when I got back and after going through loads of different healthy and tasty food combinations I could have whilst on my run I finally went with what I was really craving, which was a cheese toastie!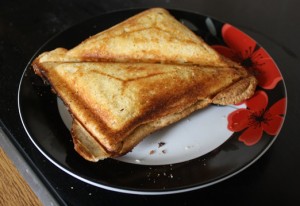 While my toastie was cooking I stretched out.  I've gotten much better at stretching after a run lately and I hardly ever *touch wood* get cramps anymore the evening of a run.  I tend to count to ten for each stretch and complete about 10 different stretches on each side for my legs, arms and core.
After a shower I was still hungry so I grabbed an apple on my way to Homebase to pick up a new wheelbarrow.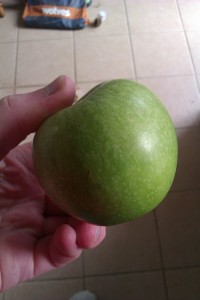 The woodman is coming today with a new delivery for our woodburner.  Last time Dan was not very impressed when we found out that we had to transport all of the wood to the top of the garden in a squeeky wheelbarrow with a flat tyre!
After a quick tidy round Dan returned home and I threw together a turkey escalope with some tomato sauce and some boiled potatoes, sweet potatoes and peas.  Later on I followed this up with one of the few remaining slices of Easter cake.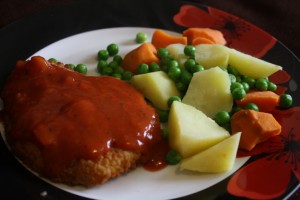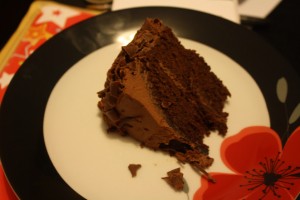 I felt exhausted last night and got a bit of a headache towards the end of the evening.  I am hoping for a more lively day today filled with lots of energy to transport a ton of wood to the top of the garden finished with a speed session at club tonight!  Fingers crossed!