Yesterday we had arranged for the woodman to come.  We have only ever had one previous wood delivery since living in this house and the hours upon hours of carting wood to the top of the garden made for a very sulky Dan.  Therefore I promised that next time we had a wood delivery I would make sure it was when he was working.  Stupid mistake!  I had forgotten just how long it takes to cart wood up the garden!
I started the day with a blueberry wheats/Jordan crunch half and half megamix with semi skimmed milk.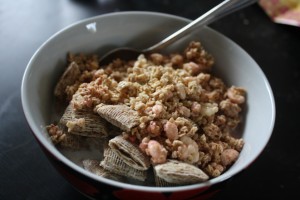 I then walked into town to grab some money for the woodman, where I bumped into Karen from club who is running the Exmoor marathon this weekend which is actually 27 miles and has a very hilly profile!  I wasn't sure what time the woodman was coming so got to work tidying the bedroom and porchway while I waited.  It got pretty boring pretty quickly so I grabbed a lolly which was actually the lolly Dan was given when he performed as a clown when we visited the circus the other week!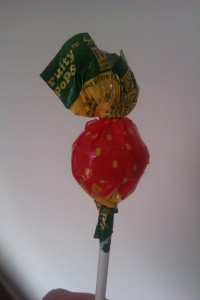 I got a phone call at about 12:15 to say that the woodman was on his way and would be about 45 mins.  I wasn't hungry but thought I'd better have something to keep me going and grabbed a tin of tomato soup with two slices of Hovis best of both.  I've been growing some parsley on my windowsill so chopped some up on top of my soup to make it look all pretty!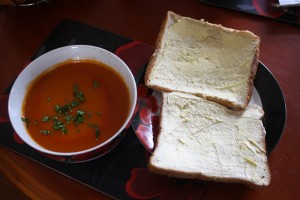 The woodman still hadn't arrived so I used the time to empty the millions of cartons of contact lenses I have received in the last month (think there must have been some mistake on my order!) onto the couch ready to sort through.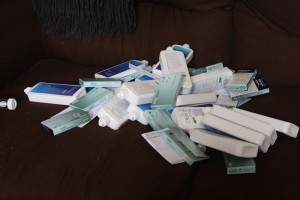 1:35pm – the woodman arrived!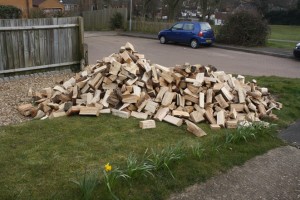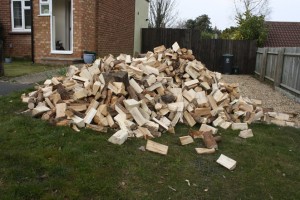 Now my mission began!  Not only do I have to get the wood from my drive all the way to the back of my garden, but when I get there, the wheelbarrow doesn't fit through a gap in the fence which is infront of the woodshed so I have to dump the wood on my lawn, then throw through the gap and then pile in the woodshed the other side!  It was going to be a long afternoon… 

Bella didn't care and stayed curled up on the couch all afternoon…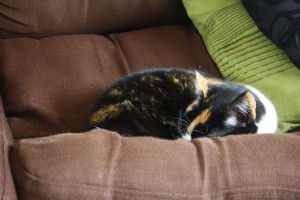 About half an hour into the wood loading I caught on to using the wheelie bin instead of the wheelbarrow to move my load.  Much more in each load!  The wheelie bin was my friend!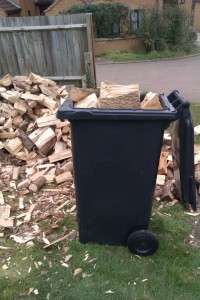 …until I caught my hand on the wheel bar at the bottom whilst trying to tip it over 10 mins later… 

  …the wheelie bin was no longer my friend.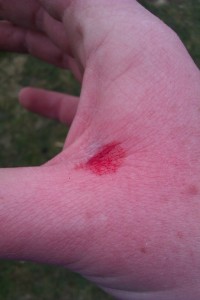 One hour later…
Two hours later…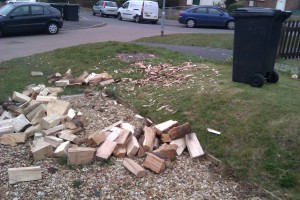 Two hours 35 mins later…front drive clear of wood…lawn full of wood!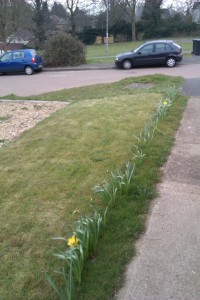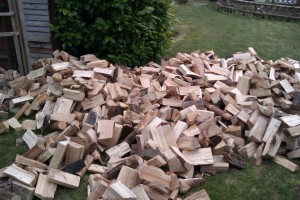 Dan found me outside at 5:30 still hefting piles of wood into the woodshed.  By this point my back and arms were really aching and I had decided that a speed session at club where I killed myself trying to keep up with group four probably wasn't what was best for me!  My legs were still a little achy from running 22 miles yesterday anyway and I figured my whole body had had a good workout from lifting, squatting, carrying and twisting all afternoon.  I carried on stacking wood until 6:20 (when I left Dan to finish up!

) and then headed in to make us both dinner.  I had been thinking about dinner for a while whilst stacking wood and I knew that there were both meatballs in the fridge and one remaining pack of pizza base mix in the cupboard.  There was still some tomato sauce left over from dinner the night before and I knew Dan wouldn't use that while I was off to my parents for the rest of the week so I decided on some yummy calzones!  I had never discovered the wonder of the calzone before working at an Italian restaurant and have since only made one set of calzones to enjoy.  I intended on making Dan a BBQ meatball calzone and stuffing my calzone with all of the odd bits of veg still sat in the fridge…mushrooms, corn, tomatoes…mmm…!  Only when I got inside and rolled out the dough I realised that there wouldn't be enough dough to make two calzones so had to settle on one pizza between us instead. 

  The toppings didn't go on my half and I ended up being lazy and putting chips in the oven to go with the half a pizza.  I don't even like chips.  It was just easier than cooking chips for Dan and making a side salad for me.  Disappointed with myself but the pizza turned out quite well.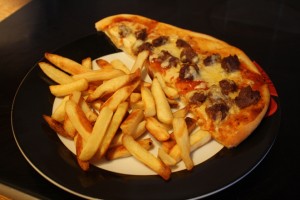 As I wasn't at club tonight and Tuesdays are cheap cinema nights we decided to go and watch Jack the Giant Slayer after tea.  Ewan McGregor might have had a little to do with the appeal of this movie!  We'd seen a few trailers a while back and it was between this or The Croods.  Jack and Ewan won!  We went to see the 3D version, and as usual I regretted paying the extra amount for what I considered to be very few 3D effects.  I have yet to see a film where the balance is spot on.  Usually I either feel dizzy because too much 3D has been encorporated, or like the producer of the film forgot about the 3D element for 20 minutes so tried to make up for it in a scene, by using it in overload before forgetting about it all over again!  Other than the lack of 3D effects though I really enjoyed this film.  The basic concept of Jack and the Giant Beanstalk was there, but they used the idea of telling of the story over several years to adapt various concepts in the story which I liked.  Nicholas Hoult was great as Jack.  I knew I'd seen his face somewhere before and had to IMDB him to recognise him as Marcus from About a Boy eleven years ago!  I hadn't realised Bill Nighy was in the film at all until the very end when the credits rolled up.  Although he was as a CGI giant!  The giants were animated very well.  Overall a 9/10.  Whenever I ask my classes to evaluate their work they always try to give it a mark out of 10 and here I am doing the same when reviewing a film!
When we arrived we found out it was Free Cone Day with Ben & Jerry's at Odeon yesterday!  I had been tempted by getting a scoop of icecream anyway.  Dinner was filling but I needed something sweet to round off the meal.  My scoop was free (for a donation in the bucket).  Even better tasting froyo chocolate fudge brownie!