I was looking forward to having something different for breakfast at Mum's this morning and was excited to see a pot of low-fat Greek style yoghurt in the fridge!…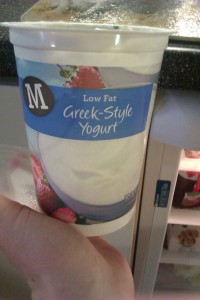 And then I opened the yoghurt up to discover this…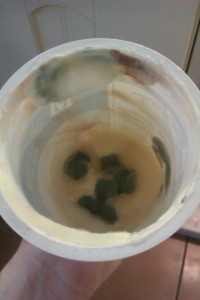 …Lots of mould!  I thought it was probably best to stick to the safe option of bread for breakfast instead this morning!  With a glass of milk.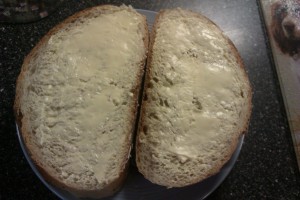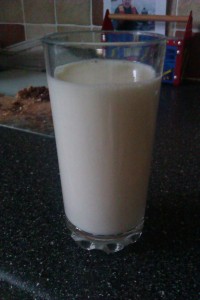 Whilst checking out a few blogs in the lounge after breakfast Dad brought through a couple of squares of milk chocolate for me to munch on.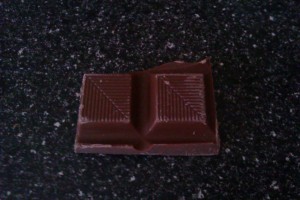 Mum had asked me to whip up some cakes for the village cake and coffee morning this morning and make an appearance as she wouldn't be able to go into a room full of people when she's in the middle of chemo with such a low blood count.  Of course the best bit about cake making is having the licks of the bowl afterwards!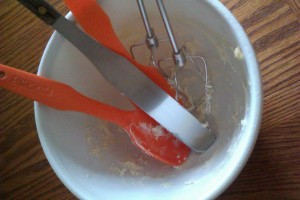 My friend Zoe was coming round to take me to Norwich to meet up with our friend Amanda so that we could celebrate Zoe's recent engagement.  She came round about 10:30am and we headed to the village cake sale to drop off the two cakes I had made that morning and spend the money Mum had given us to use.  I brought her home a blackberry pie and some shortbread.
She doesn't want people in the village to know about her illness so I claimed ignorance when asked where she was and just said that she was busy.
We picked Amanda up and headed into the city.  We each grabbed a slice of the shortbread I'd bought.  Perfect mid-morning filling up snack!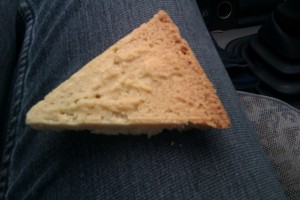 Zoe led us past an amazing cake shop which had these little beauties in the window.  I was still pretty full from the food I'd had that morning but they all looked so pretty and covered in fruit!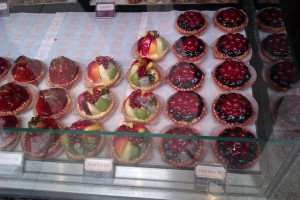 We mooched around the city for a bit.  Nobody really needed anything so it was nice to wander round without a real purpose.  We grabbed lunch from a cafe in the shopping centre.  I had a mozzerella, tomato and pesto panini.  It did come with chips as well but I swapped my chips for Zoe's coleslaw as I'm not a massive chips fan.  I wasn't overly hungry and was almost tempted by the toast and jam Amanda got but can't resist anything with pesto in!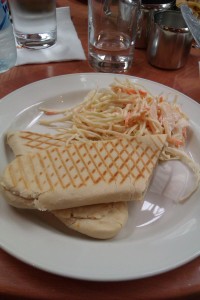 After lunch we had a nosy at a few bridesmaid dresses for Zoe's wedding as Amanda and I are both bridesmaids.  Zo wants something similar to this.  Amanda and I both decided that underwear probably wouldn't be an option when wearing a dress like this and we'd both need to lose a stone!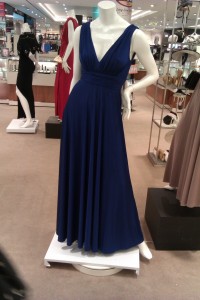 While bridesmaid dress hunting we found this sign so I had to take a picture!  (Very quickly, while both cashier's heads were down!)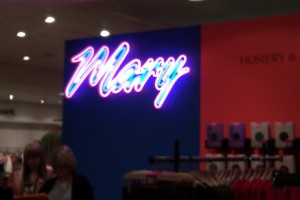 I also had to stop for five minutes because I was laughing so hard when I discovered there was a lolly in the lining of my coat arm!  It had somehow travelled through the hole in my pocket and along my coat until it had gotten stuck in my coat arm and meant that I couldn't move my elbow!!!  It took all three of us to guide it back into my coat pocket again!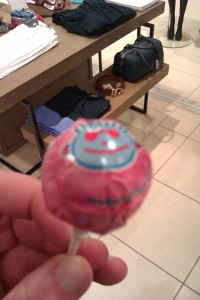 I spotted a display of fascinators and commented that I had never worn one before, so we had to try some on…!  The first one Amanda tried on was horrific so we had to take a second pic!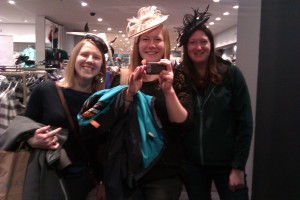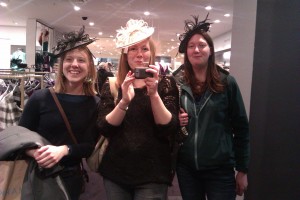 All this excitement meant that we had worked up an appetite for a hot chocolate.  Amanda was rubbish at carrying them to the table and there was a trail from the counter to our table!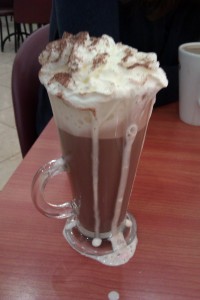 A bit more mooching in Waterstones and some lounging on the sofas in Jarrolds took place before deciding we were ready for dinner.  The restaurant we had intended to go to, Trattoria Rustica didn't open until 6 and we had arrived just beforehand so nipped to a pub not far away to grab a drink.  I had a cranberry juice with lime.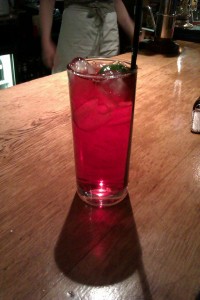 I was torn between a couple of dishes…the Calzone (as I never got my calzone the other night.) and the Risotto Rustico.  In the end I went for the risotto but swapped the chicken for mixed peppers.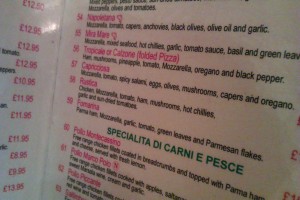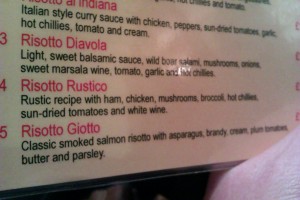 The risotto was lovely.  I had forgotten about the chillies in it until I ate it, but it was just what I needed with a big helping of different veg.  I'm glad I ordered this over the calzone.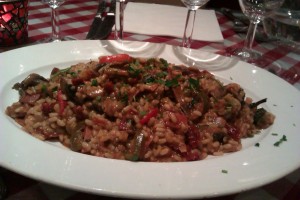 The three of us can never go out without ordering dessert as all of us like to finish on something sweet.  I took my time deciding but ended up with the Crespella Sorpresa.  Amanda has been to this restaurant several times before and said that this was small.  This was not!  But it was lovely.  The icecream was the perfect compliment to the sweet pancake and finished off my meal nicely.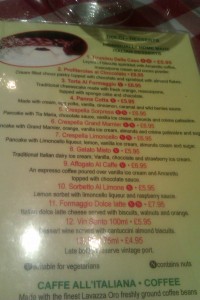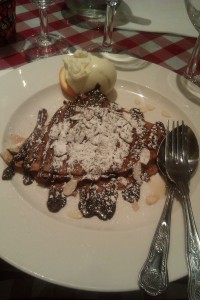 I was
very
full by now.  It didn't help that I had had about 7 glasses of water over dinner.  I always drink so much water with my meals which leaves me feeling ridiculously full!  I find it very difficult to leave any of a meal on my plate as well which is an issue at times.  Tonight though I got through it all and felt comfortable again within an hour.  I think the reason I was uncomfortable was down to how much water I had consumed at the same time!
Dan rang over dinner to announce that his little sister was pregnant again with baby #2.  He is going to be an uncle again for the second time in two years!  It's all going on in his family right now!