The aim of today was to get a million items ticket off my to-do-list before bed!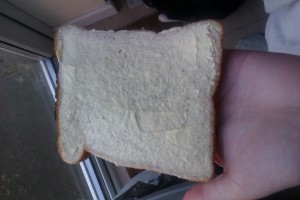 After blogging this morning I grabbed a slice of bread and butter and a pint of water before getting changed for a run.  The aim was initially a steady 6.8 miles, but this ended up as 4.65 miles instead.  It was a lovely day for a run…really sunny out and I decided on a t-shirt for one of the first times this year.  It was mega hot out and I wish I had also decided on shorts as well as the t-shirt!  By mile 1.8 the sweat was pouring off of me.  I didn't seem to have any energy and I knew that I would struggle to maintain my pace for any distance.
I walked for about 1/10th of a mile before settling back into a slower run and deciding to do an out of back of about miles instead.  My 6.8 would have finished on a steep hill and I'm not sure my body would have co-operated today.  I'm not sure if it was because I didn't have a proper breakfast before the run today, because I had had a four day break from running, because of the sudden heat wave or because I had just had a visit from Aunty Flo (my friend refers to it as this all the time!) but whatever it was I decided that my body probably knew best and agreed not to push it today.
My splits are: Mile 1: 10:36 Mile 2: 10:34 Mile 3: 10:35 Mile 4: 10:08 Mile 5: 10:14.  Overall it doesn't look as rubbish as it felt at the time.  An average of 10:26mm and 600 calories burnt before breakfast.
Breakfast was imagined in my mind all of the returning journey!  I wanted to make some proper American style pancakes a while back but they had turned out more English-style as I didn't have any baking powder.  A couple of weekends ago I picked up another pot of baking powder but had never gotten round to making the pancakes again.  This morning, I did!  I had a nice big thick pancake with blueberries and strawberry slices in.  It was very thick and light – perfect American pancake texture!  I don't like syrup or anything on my pancakes and I felt that there weren't enough pieces of fruit in this pancake for my liking.  After eating my pancake breakfast, I mixed some more fruit pieces into the remaining batter and cooked another pancake ready for my breakfast tomorrow.  I'm looking forward to it already!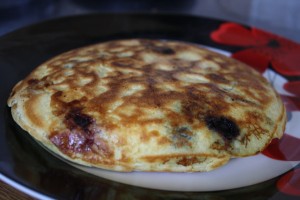 One of the items on my to-do-list for today was to control my uncontrollable hedge at the bottom of the garden!…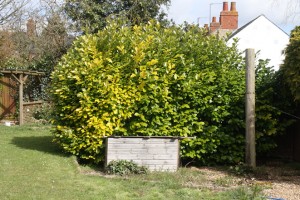 After a good attempt at hedge control (but not quite completing the job as I wasn't tall enough to reach the branches at the top in the middle) I headed to the Co-op to pick up some of the items for one of my favourite all-time meals…mozerella and tomato pesto salad.  YUM!!!  I also picked up a crusty bread roll to have on the side.  Complimented the dish perfectly.  This was one of my favourite dishes from my working at Frankie & Benny's days.  It was there I was introduced to the wonder of pesto!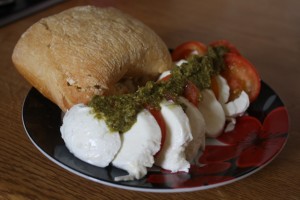 I also have something yummy and yet again vegetarian planned for tea!  Can't wait!