I think Dad was a bit disappointed yesterday morning when he brought home a cheese topped roll and a croissant and tried to force feed them to me but I turned him down.  So I ate these for breakfast this morning.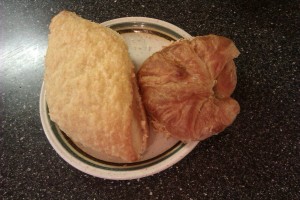 Busy day of plans, involving meeting up with my bestie Hollie for a catchup at 9am.  Her son Tom is now nearly 18 months and has started drawing.  He is mega cute.  I am not in any way a baby fan.  I haven't even touched Dan's year old nephew, let alone held him!  But I am fond of kids.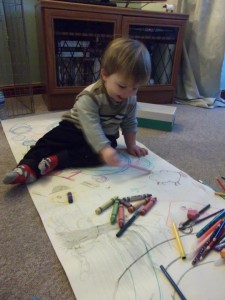 Dad picked me up from Hol's at 10:40 and we headed through to an auction near to Hunstanton.  I have always, always said that my Dad and his brother are very much Rodney and Delboy and they are both forever finding 'great deals' that they couldn't pass up!  When I was eight my uncle actually bought out a video store and had over 1000 videos in his shed for years which he gradually sold on!  This was great, cos each week me and my brother would go round and pick two movies each to take home and watch.  Beethoven was always my favourite!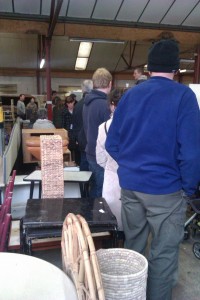 Dad treated me to a lunch of a cheese salad roll and a slice of chocolate cake.  The roll was really nice and freshly made, as was the cake.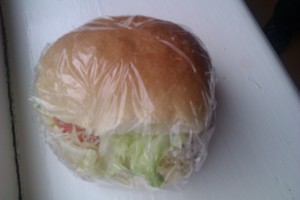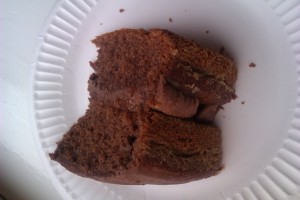 We then spent about three hours waiting for a bed Dad liked the look of to come up, and in the end, Dad won it for £28.  It was a bargain as it looked pretty much new.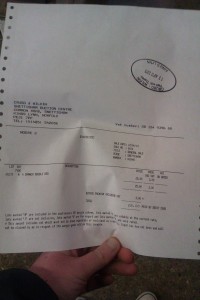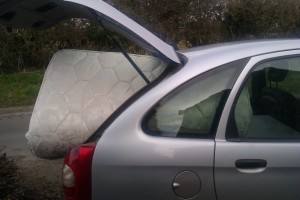 Unfortunately it didn't all fit in the car so we ended up loading the two halves of the bed into the car and leaving the mattress in the auction house to come back for later.  We drove through to my Aunt's house near Kings Lynn and watered her plants and collected her mail.  She went into
Miami rehab center
about six weeks ago so Dad has been collecting her mail, shopping and visiting her each week since.  We left half of the bed at my Aunt's house and then headed through to see her for a little while.  On the way home we picked up the mattress and stored this at my Great Aunt's house next door when we finally got back!  The only problem with Dad (and Me!) being a hoarder is that you run out of space very quickly!  Dad has already built himself a shed bigger than a double garage at the top of the garden for all of his random purchases!
For dinner Mum had cooked up a lovely meal of brocolli, carrots, butternut squash and salmon.  I did also add some cheese sauce to this plate after I'd snapped a pic.  She had added the squash remembering that I had mentioned wanting to try it the other day.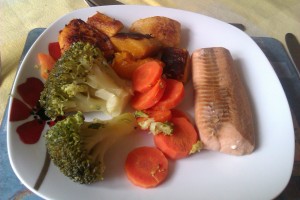 For dessert Dad whipped up some custard and we each had a slice of the blackberry pie I brought home from the sale on Thursday.  Very filling meal.  Again I downed about 5 pints of water (no exaggeration!) over dinner and was feeling it afterwards!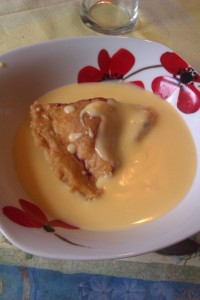 I suggested we all take Blue for a walk at the dog fields nearby.  Unfortunately he got rather excited in the car and bit through his lead.  Oops!  It literally took him just one chomp and he was through it!  It felt good to have a walk around after the big dinner.  My foot is feeling so much now and I'm glad I took the couple of days off from running to let it recover from the start of the week.  Hopefully when I go for my runs Saturday and Sunday I will be feeling strong again and pain free enough for a good run.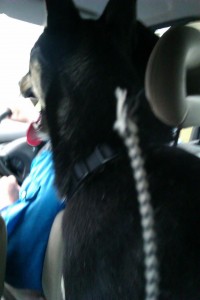 Dad brought out a chocolate bar for me to snack on on the way home.  This was quite nice actually.  Apparentally he bought it from Lidl and it was thick, rich but not too overbearing and sickly.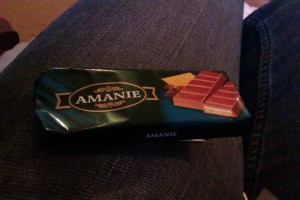 It was good to get home and see Bella last night but Dan is now away for the footy and a friend's birthday until Sunday so I missed seeing him last night.  Today is going to be a busy day of getting things done whilst I'm on my own in the house though I've decided…