AKA My 5k Personal Worst!
The day started out well.  This was because I began with the other blueberry and strawberry slice pancake I made yesterday!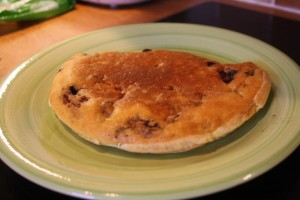 This pancake had a lot more fruit in than the one I made yesterday.  I'm planning on another fruity wonder tomorrow!  I did heat it up in the microwave for 30 seconds but it wasn't quite the same as having a fresh pancake straight from the frying pan. 

I had lots of time before the race this morning, as it didn't begin until 10:30 and was only a 20 min drive away.  However, I allowed an hour because I am rubbish at navigating my way to races and always get lost!
Today was not my fault!  The race website didn't list a postcode or directions for getting there.  It just said Abington Park as the location.  Turns out Abington Park is quite large!  I drove around for a little while but hadn't seen any signs so took a chance on it by parking on a side road and jogging over into the park.  I happened to see two guys in fluorescent yellow jackets not long after entering the park who were clearly marshalls and asked them where the race start was.  Apparentally the far end of the park!  By now it was 10:08am so I jogged the 1.3 miles uphill to the other end of the park as I still needed to pick up my race number.
Today was the first day in a long while I remembered to take my own safety pins.  I pinned them to my race vest.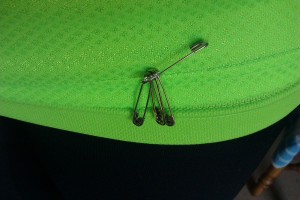 This was also the day that the race had probably 1000 too many safety pins along with the race numbers!  Oh well!
I had about 10 mins to stretch my legs before the race director gave us the low down on the course and then we were off.  Just like yesterday I was pouring with sweat not long after we started.  It was incredibly hot and sticky today and I really wish I had worn shorts.  I wear shorts in the depths of winter to cross country races in the snow, why have I not pulled them out of the cupboard yet?!?!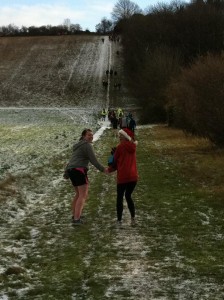 I had set my garmin to show current pace and it seemed to be all over the place.  One minute it was telling me I was running 8:20mm and the next 11mm.  I don't think I was running quite that erratically!
The first section was a slight downhill along the grass.  It was quite muddy going round the corner, but overall not too soggy.  The track then turned into a path which was nice to run on and I overtook several runners along this section.  We turned another corner and ran back through the start line and along the grassy track again before heading along another path which went round by the lake.  Laura from my running club was helping out at the race so cheered me on as I was running through the start line which was a nice boost.  At 1.5 miles I fell apart.  I seemed to have no energy, just like yesterday and I just couldn't move any quicker.  Stupidly I let myself walk.  (I'm very disappointed with myself for doing this.  It was only a 5k!  I'm supposed to be running a marathon in 22 days!)  When I did run again I tried to keep my pace steady but found it really difficult and I knew my pacing was all over the place.  I tried not to glance at my watch though as I didn't want to get too hung up on the time that I knew was going to end up a lot slower than I had wanted.  Luckily, the finish was on a downhill and I sprinted the last 0.2 miles, at a pace of 7.24mm!  How could anyone run that fast the whole distance?!
I didn't go into this race expecting a PB but I certainly didn't go in expecting a PW today.  Watch time 29:24.  Official time yet to be confirmed.  At least I got another medal for my collection!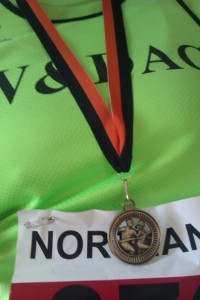 I had considered pulling out around mile 2 when I was really struggling but was very glad I didn't.  I want to learn from my poor runs.  Not give up never knowing that I can improve and how to do so.  I think that my 'Aunty Flo' visit along with the first really hot heat we've had this Summer had a lot to do with my poor time in this race more than any other factors.  I was silly and 'trebled' up my pill to avoid her visiting during any of my big races earlier in the season and so this visit has really wiped me out.  I shall know not to do that again!  I shall also be crossing my fingers for an overcast day on 6th May, MK marathon day!