As well as starting my own Friday Focus to try and improve my way of living, I have also signed up for the Healthy sELF challenges at nutritionella.  I like the idea of focusing on three little tasks each week which are all achievable and will help me discover more about me!
Yesterday, the target was to try a new healthy recipe so I hunted around yesterday morning to find something I would like to try and came across Jo Cook's Stuffed Zucchini (that's Stuffed courgette for anyone in England!!!)  I made a few alterations, as I wasn't feeling the meat.
I scooped out the soft middle of a medium sized courgette and smooshed it up with some sliced button mushrooms and a couple of tablespoonfuls of a tomato based pasta sauce, then heaped the mixture into the hollowed out courgette.  I added some slices of brie on the top.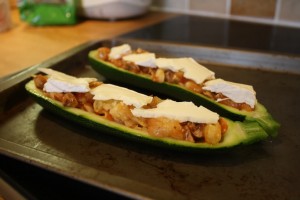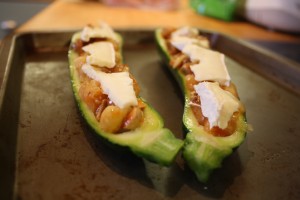 I placed in the oven for 15 minutes and when the courgette came out of the oven I plated it up along with a handful of sugar snap peas, a handful of red seedless grapes and a handful of mini corns.  It looked a little something like this…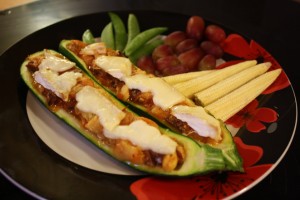 I think I probably should have left it in the oven a little longer.  The meal was nice but when cutting into the courgette it was still very watery and probably could have benefited from an extra 10 mins in the oven before plating up.  I also added some salt to the dish after a couple of bites.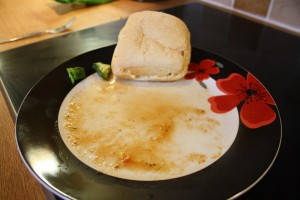 Because the courgette had leaked watery pasta sauce over the dish I grabbed a crusty white roll to mop up the juices.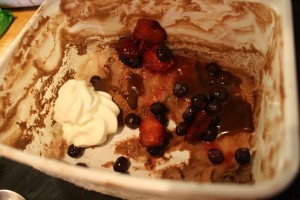 I was feeling like dessert was a must today and when hunting in the freezer there was a tiny smidge of chocolate icecream left, so I added a few blueberries and strawberry slices and a quick sneaky squirt of cream before settling down infront of Fast Girls with my year 7 marking.  I can't believe there's only two days holiday left before school starts again.