At the risk of sounding like a thirteen year old girl in her first relationship I really, really missed Dan this past week.  I was at my parents from Wednesday until Friday and he was at his parents from Friday until yesterday afternoon.  I know it was only a few days apart, but I really did miss him!  It reminded me of the days when I used to live in Norfolk and he used to live in Wolverhampton and we would only see each other every fortnight/three weeks.  That seems like a long time ago now!
So I was really glad to see that he had already arrived home when I got back from my race yesterday.  I fixed us up some lunch quickly.  I made him a couple of tuna rolls and I grabbed a brie, tomato, sugar snap peas, mini corn and cranberry sauce sandwich.  I then promptly fell asleep on him on the couch while he watched the football!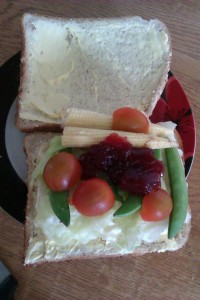 After the football Dan had the fantastic idea that we should walk into town and pick up an icecream.  I chose a FEAST, the best ice cream lolly known to human kind!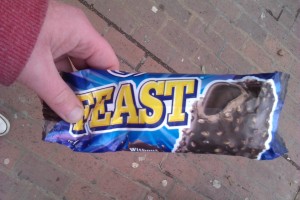 I love that there is still a big chunk of chocolate in the centre once you have finished the icecream!
Dan left for football training at about 3:30 and I decided to get a run in.  I knew not to expect too much after the past two rubbishy runs, but it was such a nice day outside I couldn't help myself!  I set out without really a plan except that I wanted to run offroad or round backroads.  Somewhere I could enjoy the run on my own.  My run ended up being 6.79 miles long and I went all round the boat docking areas nearby.  There's a really cute little tearoom by the docks and when Dan got back from footy I excitedly suggested that we should have his two best friends with girlfriends over and rent a boat out for the day in the Summer!  He agreed.  I walked several sections of the 'run' but didn't beat myself up about it.  When I did run my pace was at least constant, rather than all over the place like it had been during the race that morning.  When I got back I snagged a bag of yoghurt covered cranberries.  I'd forgotten how nice these are to pick at.  I bought 40 for £2 in a bargain basket at the chocolate factory a little while ago but it's been several weeks since I've had any.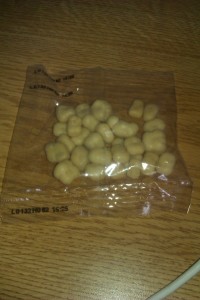 I had suggested to Dan before he left for footy that we should have a date night tonight and he agreed, but really wanted to go to Buddies.  NOT the healthiest of restaurants, but I figured I could go for a starter.  Dan pointed out this burger…(he didn't order it though!)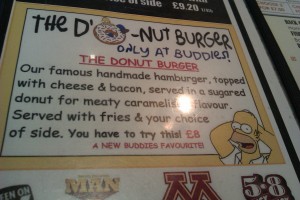 How crazy and needlessly fattening would that be?!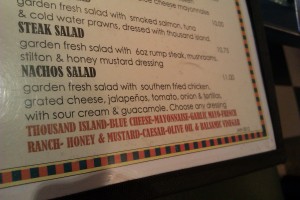 I quite liked the look of the Nachos Salad, but was worried how large it would be.  Dan convinced me that it wouldn't be too large as it was advertised as a salad.  He was wrong!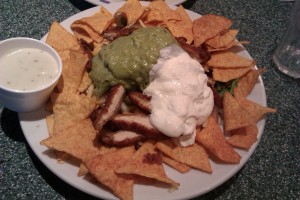 The first thing I did was remove all of the nachos from the plate.  If there was anything I wasn't fussed about not finishing it would be the nachos.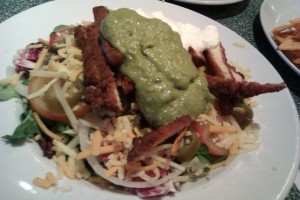 Dan had also wanted to order a cheesy garlic bread to share.  I had about half of this garlic bread.  It was nice and squishy inside, just how I like my bread to be, but there wasn't a very strong taste of garlic as well as being WAY too much cheese on top!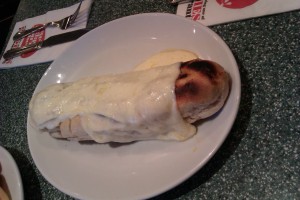 I obviously really struggled with my meal but thinking to my Friday Focus I set last week (to ensure I stop eating when full) I was sensible and stopped at this point.  There was still the side plate of nachos left over – I didn't have any at all.  I'm pretty sure that I would have struggled to finish THESE LEFTOVERS as a portion size meal!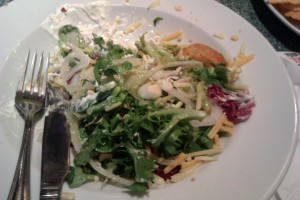 I was planning on asking for a takeaway box to package up my leftovers and was already thinking of my lunchtime on Tuesday for the first day back at work and not having to 'make' my own meal for the day.  But when Dan asked for a takeaway box for me it turned out they had run out.  I was really disappointed. 

Yesterday I spotted on Lazy Girl Running a link for the Write This Run conference mid May.  I'd been looking for something similar to go to for a while now and this looked really good.  I mentioned it to Dan over lunch and he was really supportive about it.  My only concern was that it was going to clash with the training runs for my ultra that Kev is putting on.
When I woke up this morning and checked the website it said 'One remaining ticket'.  So…I snapped that up and will be attending the Write This Run conference! 

  It even finishes with a run with Scott Overall.  (Hopefully slow enough that I can keep up!!!)  I am very excited!!!