I wasn't dreading my first day back today.  I haven't really been 'excited' by my job for a little while now and have had days where I've dreaded going in.
Today wasn't one of them.
It probably should have been.
Breakfast this morning was back to my mix of blueberry wheats and Jordan's strawberry crunch with semi-skimmed milk.  I'm aiming for fruit and yoghurt tomorrow to break out of this easy mould early on!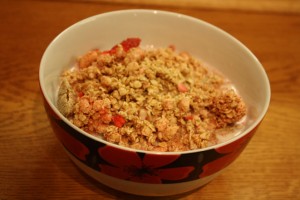 We had received an email from the School Principal last night at 10:30pm asking to all meet this morning.  I didn't think that it was any more than to welcome us back for a new term.  It was to inform us of the death of a (recently ex) student.  This was some horrible news to begin the day with.  I had taught the student last year.  The world is very much filled with death right now.

My lessons which I hadn't done a whole lot of preparing for went without too much of a hitch…even my year 9 computer games boys class.  They're always trouble last thing on a Tuesday afternoon!
Early on I received an email from the data officer to tell me that my year 7 reports appeared to have corrupted and that I would need to rewrite all 93…by tomorrow. 

  I still intend on going to run club tonight though.  I've already written them once and they'd been signed off by my head of department so I have evidence they were there!!!
My Graze boxes have been building up in my cupboard over the past few weeks.  I love Graze boxes at work as they are really easy to pack and pick at throughout the day when I just want a quick snack.  I never really fancy them at home when I can put together a meal.  I took a total of about 20 graze boxes in this morning in a carrier bag, along with some tangerines and left them at my desk for my snacks over the coming weeks.  I know they will go quickly at school!  For morning break I fancied something a bit sweet and tucked into a Summer Berry flapjack.  I love how these are split into three bite sized pieces so you can make them last even longer.  I, however wolfed the lot down quite quickly today!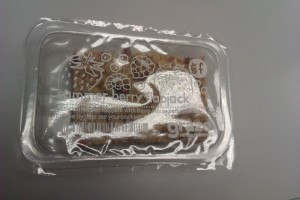 Period 3 is my Photoshop module lesson I am teaching to year 9s.  I have a really lovely class at the moment and I love the topic so I find it really easy and enjoyable teaching them for three lessons a week.  Today I was showing them how to adjust the shutter settings on a Canon camera to produce action or blurred shots and then they were testing it out in small groups.  They love anything hands on and it's really interesting looking at their choices of shot.
For lunch I packed my last remaining mozzerella ball and a handful of cherry tomatoes with one full size tomato and a large dollop of pesto.  This meal has treated me well the past few days.  I could never get tired of pesto!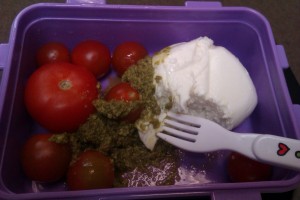 I wasn't as hungry as I thought I would be this afternoon but had opened up a snack for the afternoon before realising I could probably have coped without.  Stupid Mary!  This was exactly what I was trying to avoid with my Friday Focus.  I had the Cookies & Cream Graze box but afterwards really wished I had chosen some fruit.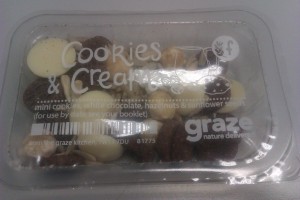 I am home now and about to check my reports from my laptop before heading out for a de-stress speedwork session at running club tonight.  I shall leave you with this Interview with Kathrine Switzer (the first lady to run the Boston marathon, back in 1967) which was posted on the Women's Running website earlier today – where she focuses on the events of Boston Marathon 2013.