I'm going to quickly post my food and day because I want to talk about the marathon tragedies that happened over the weekend.
Dan saw my pancakes that I had made over the weekend and was insanely jealous, so I had promised that I would get up early yesterday and make another batch for us both.  His was plain, which he then added mountains of chocolate sauce to.  Mine contained the rest of my blueberries and strawberry slices.  Then I poured all of the remaining fruit juice over the top of the pancake.  This was a nice addition.
I'd run out of plain flour on Saturday, when I had made the last batch of pancakes and had forgotten to pick up anymore so experimented with self raising flour to make these.  I need to remember to buy some more plain flour and stick with it next time!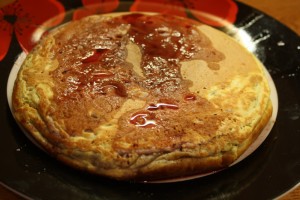 I was supposed to be having lunch with my friend Vick, but she cancelled first thing in the morning.  We both go back to school today and she, like me, still had lots of work to catch up on.
Instead I booked a doctors appointment for Thursday (took me over two hours of calling every few minutes to get through!) and picked up Dan's tie from the dry cleaners at Waitrose.  I had a mooch around Waitrose, looking forward to seeing what different food stuffs I could bring home to experiment with, but there wasn't a lot so brought home a fresh roll for part of my lunch.  I had another mozzerella, tomato and pesto lunch today with the fresh roll.  (You have to imagine the roll was twice the size…I picked at it on the way back from Waitrose because it smelt so good!)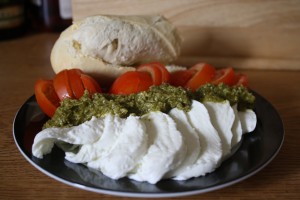 Later on that afternoon (mainly to procrastinate further and put off more marking) I snacked on a muller light orange and chocolate yoghurt.  Yes, the date does say 6th March, but the yoghurt tasted fine!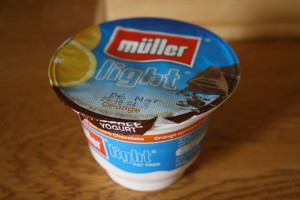 I wasn't mega hungry for tea so fixed myself a salad of brie, lettuce, grapes, cherry tomatoes, mini corn, sugar snap peas, cheddar and some of the blue cheese dressing I brought home from Buddies on Sunday evening.  I had a slice of bread on the side and Dan photographed and then brought me a large glass of wine.  (Love him!)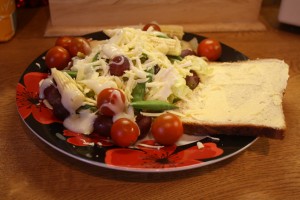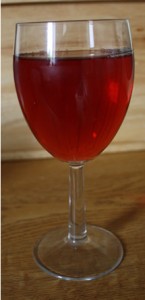 Now to Boston…
After dinner I did a little more school work before checking Facebook before we settled down to watch a film before bed.  As I switched to the Facebook read, one of my friends from running club had posted "Explosion reported at Boston marathon finish line" with a link to the BBC website.  Dan and I watched the live coverage for nearly an hour.  The scenes were horrible.  There was blood all over the pavements and people with severely injured legs and arms.  The worst that could happen to a runner.  When we first switched the news on there were reports of 20 people being injured by the two blasts.  Not long after this figure went up to 100 with three death counts.  The ITV news page has several video clips.  Although I didn't personally know anyone running in the Boston marathon, my immediate thoughts went out to all those in the blogging world that I have recently just started getting to know.  Luckily it appears that all those are safe, but sadly, that is not the case for all of the runners and spectators and marshalls from the day.
This news comes a day after Brighton marathon where a runner collapsed at mile sixteen of the race and later died in hospital.
My HealthysELF challenge of 'disconnecting before bed' didn't happen I am afraid, due to being glued to the news coverage of Boston but I will reattemp it tonight instead.
The Virgin London Marathon issued a notice on their website saying that they were going to look into enhanced security for Britain's big event, the next of the 'Big Six' this coming Sunday.  It's not necessarily about the same people attacking the next big marathon event, but more about fears that copycats will start something to the same effect.

Milton Keynes marathon, two weeks later will also be looking to step up their security.  This is a large event, but no-where near the same scale as Boston or London.
It is very scary that somebody could cause this.  The last time I sat glued to the TV gobsmacked with the way people could behave was when the London Riots were taking place.  That also affected our whole country – copycat rioters were everywhere, with police on high alert in every town.  Our running club session was altered as the school we run from was on lock down from the rioters!  We live a long way from any big city.
People can be very scary things…