Yesterday wan't all depressing…I got two fun items in the mail…and I think a third of my unrun Oakley 20 hoodie is waiting for me at the post office!
Item # 1: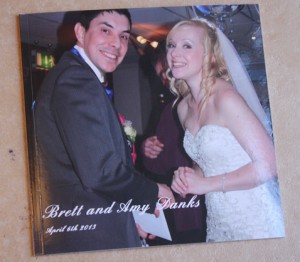 I put together a photo book using Blurb for my friend Amy whose wedding I went to a fortnight ago.  I wanted to do something nice for her and I didn't know how long it would be until she got her official photographs back from the photographer so thought this would be a nice suprise for her in the mail.  I was hoping it would have returned by the time she got back from her honeymoon, but not quite unfortunately.

Item #2: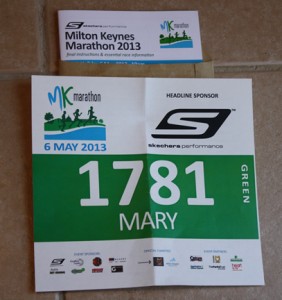 My Milton Keynes marathon number!  Eek!  Just 17 days to go now!  Almost there.  I'm in the Green start pen.  Is there anybody else running in Green?  I can't remember what I put down as my expected finish time…Probably 4:45 ish…
I could have my strawberry crunch mix with my breakfast again after visiting Tescos last night.  Here is my nice early breakfast of strawberry crunch mix, the remaining pineapple chunks, remaining raspberries and some yoghurt in my bowl.  I added lots of the pineapple juice and raspberry juice to my bowl so that it wasn't too dry.  Perfect!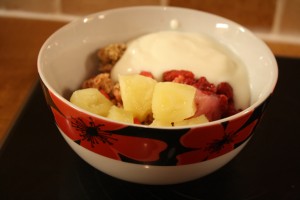 Hopefully it's set me up for a good day today…