Very, very happy with my Parkrun today!
But first, breakfast…
It's been a little while since I had a good toasted bagel with smooth peanut butter so today I decided to dig a bagel out of the freezer and toast it pre-Parkrun.  Good decision!
I woke up feeling REALLY hungry this morning.  I read the other day though, that you should wake up feeling hungry, as you probably haven't eaten for about 10 hours overnight.  If you wake up feeling not hungry, it means that you overate the day before.
I was a little nervous about heading out to the Parkrun this morning but Dan and I had a full day of fun planned…Parkrun, swimming, icecream at the cinema and out for dinner so I was committed!
My Friday Focus for this week (a day late announcing I know!) is to not look at my watch whilst I am running.  I felt that I had a much better run yesterday by not looking at my watch and worrying about my pace.  I would like a week of runs like this.
So today despite it being a 5k 'race' the aim was to not look at my watch whilst running, and to run on feel alone.  I didn't set out with a time in mind, but was concentrating more on not watch-watching and completing without slowing to a walk.  (Both challenges met!)
There were quite a few members of my running club running today and I was talking at the start line to a few beforehand.  The briefing was extremely brief and before I knew it the gun had gone and we were off!  (Here's a horrific picture of me at the start!)…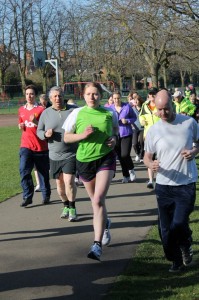 Stupidly I had started too far back again and ended up weaving to get past several people early on.  The first mile was fine.  I could feel the muscles in my chest working hard but my breathing was on track and my legs didn't feel as heavy as they have done just lately.  When my Garmin beeped to tell me I had run a mile I was so tempted to look down and check my pace but managed to resist the urge.  Mile two has a slight hill in it.  It is a TINY, TINY hill over probably 1/10th of a mile but as the rest of the course is so pancake flat you do really notice it.  About half way through the second mile I latched onto a guy that was running just slightly faster than me and used him as my pacer for the next mile.  I lost him towards the end of the second mile and instead latched onto a woman a little older than me.  I stayed with her until the end.  At one point I overtook her but she managed a sprint finish from 0.2 miles out which I knew I wouldn't be able to maintain.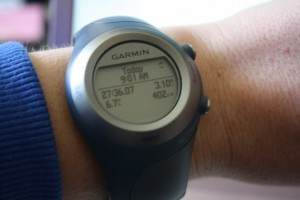 I finished strong and happy, even before looking down at my watch.  After two of my last three 5k races coming in at over 29m I knew I had beaten that and finished feeling so strong and comfortable – happy that I had paced it the way that I had.  Final watch time: 27m 36s.  NOT a PB, but so much better than I thought I would achieve today.  It really makes you realise how much racing and running generally is all about the mind games!
Lap stats:
Mile 1: 8:35
Mile 2: 8:52
Mile 3: 9:17
0.1m: 51secs (8:26 pace)
When we arrived home, my running magazine had arrived so I'm now about to go and sit in the sun and have a read before we head out for our swim this afternoon!  Good times!