I ALMOST packed a lunch today.  Every Friday we always have 'Treats' at work, which is five of us that meet and share food at breaktime and discuss how our weeks have been at school.  I hadn't received an email with the Treats rota, so assumed it would not be on today, and had been forgotten about.  I headed down about 10 minutes into breaktime and discovered that the rota organiser had forgotten to send the rota out but had brought the treats in herself this week.  Sneakily took some pictures this week!  First time I've been brave enough to do so!
I had 1x bread roll and 1x handful of carrot sticks, both dipped in a mediterranean hummus (not pictured) which was pretty hot!  This was followed up with the most delicious brownie I have ever tasted (but also probably the worst in nutrition content!)  It was soft and almost creamy and went down very well for a mini dessert!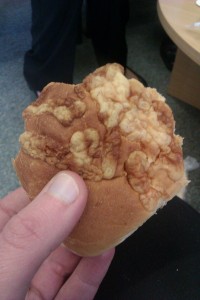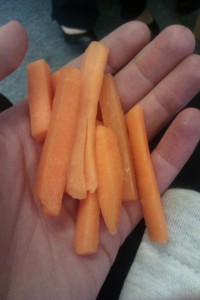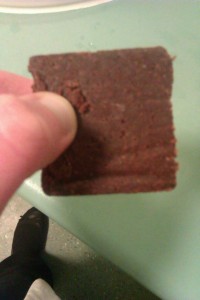 In the afternoon I tucked into a  Herby Bread Basket
Graze
box as I was getting a little peckish.  Sometimes these can be mega, mega garlicky – which I am totally fine with, I just feel sorry for the classes that come into my room afterwards! – but today's box was just right!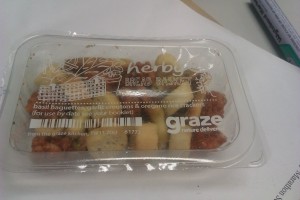 I drove into work so that I could come home and get a run in before going out for dinner with friends in the evening.  I was a little nervous about how my run would go and planned a 5 mile route I really enjoy with hardly any traffic.  I agreed with myself from the beginning that I would not look at my Garmin until I stopped it at the end of the run.  This was an incredibly difficult thing to do but I stuck to my agreement.
I felt like I was moving at 11mm pace and my legs really did not feel as though they could go any faster.  I was getting very frustrated with myself and my head was screaming at me that it would be so much easier to give up and walk.  I kept conning myself to just make it to the next corner…and then the next one…and just one more…
Finally, I got back to the bottom of my road and stopped my watch and looked down.  From the stats it looked to read that I had been running 10mm pace.  Much better than I thought I had been running at, although obviously no where near where I had been at a fortnight ago.  I was pleasantly surprised that it was faster than it felt, although still a little disappointed that I appear to have lost so much fitness for no apparent reason and that the run had felt like such hard work.
When coming inside to upload my stats though, I realise I had infact read the Garmin wrong and my mile splits were as follows…
Mile 1: 10:35 (including my warmup)
Mile 2: 10:12
Mile 3: 9:49
Mile 4: 9:25
Mile 5: 9:15
This gave me so much more confidence back.  I think a lot of the reason I went downhill last year after my marathon was because I was watch-watching and desperate to stick to the pace I knew I was previously able to run.  I shall be introducing at least one non-watch-watching run a week over the coming weeks to just run on feel again.
After quickly checking my stats online I quickly showered and changed and drove Dan and I to Peterborough where we met our friends Vicki and Alex for dinner.
Alex has been dying to take us to the Fox & Hounds for the longest time and I really liked the look of the menu.  However, we arrived at 7pm and did not get our mains until just after 9pm.  I was not impressed and extremely hungry by this point!  The others had ordered starters which arrived just before 8:45.  I had to pick Dan's salad from his satay chicken starter plate else I knew I would end up feeling weak.  It came with a delicious peanut chili sauce which I stole for myself once Dan had finished the chicken.
I was excited by the Mozzarella & Pesto burger I found in the menu which came with sweet potato fries.  I've yet to see anywhere in the UK offer sweet potato fries and was really looking forward to this meal.  Especially being so hungry by this point!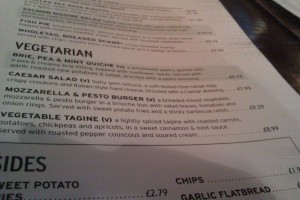 I was very disappointed when my meal came out looking extremely brown and boring and with less colour on my plate than everybody else's meals on our table.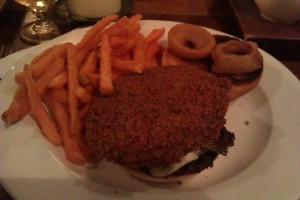 But…then I bit into my burger!…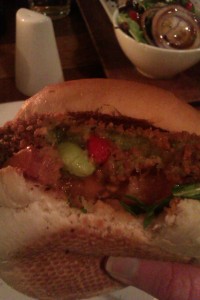 This was amazing and was filled with colourful goodness!  My mood improved! 

Overall, the food was great at the Fox & Hounds, with lots of really original dishes.  But I did not think very much of the service.  When we asked if we could pay on two cards, the waiter came back with the bill split down the middle.  Alex and Vicki had drunk a lot more than us (I was drinking iced water and Alex had had five pints alone!) so we had worked out the bill for each couple and knew what we wanted to pay.  The waiter then said that he couldn't undo the split and we would have to pay the amount he said.  I didn't mind paying a little extra for Vick and Alex but it was rather frustrating that he could not undo his last action.  I'm sure there would have been a way…