I was really, really, REALLY looking forward to watching the London marathon coverage on the TV pretty much all day today.  Last year I ran 6 miles early on and then slobbed on the couch all day glued to the TV.  Same plan for today but instead of 6 easy miles, Maria had invited me to run 15 very HILLY miles with her this morning.  7.5 miles out and then back into town again.  The hills are dubbed 'The Three Sisters' and look like this…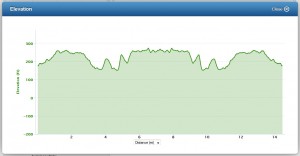 I grabbed a bagel with peanut butter on before leaving and topped up a water bottle with water.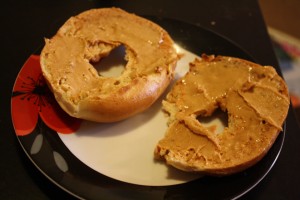 Maria has race times that are a little slower than me and was possibly too optimistic in the pace at the beginning, as we set out at a 10mm pace for the hills.  I was planning on 10:30-11mm and knew I would burn out as the course progressed and struggle to maintain the pace especially after completing the hills!  With a few walking breaks mainly prompted by Maria we still held about an 11mm pace throughout and the weather was lovely to run in.  Nice and warm with a cool breeze.  We set out at 6:30am and barely saw any traffic but there were several hot air balloons out in the sky on our way.  I got through a full bottle of water by the end of the 15 miles and could really have done with a gel or a little food or something towards the end of today's session.  Those hills were tough and made me very greatful of the fact that Milton Keynes is incredibly flat!
Here's us at the finish!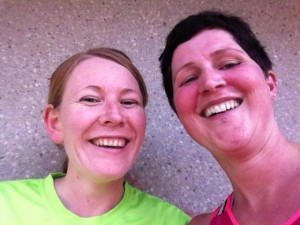 It was lovely having someone to run with this morning.  I've completed all of my long runs for marathon training on my own up until this point and it is so much nicer having someone to natter away to and distract you from the pain in your legs or head arguing with you to stop!
When I returned I grabbed a glass of ice cold semi-skimmed milk and a second (mini) breakfast which looks discusting but tasted lovely!  I had half of the remaining pineapple juice from my fruit tin I ate over breakfasts this week along with half of the remaining rasberry juice (this is why it turned that deep purple colour for the picture!) and several spoonfuls of low-fat yoghurt.  Trust me when I say it tasted nice, because I realise that it doesn't at all in that photo!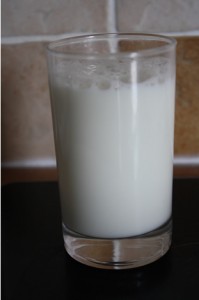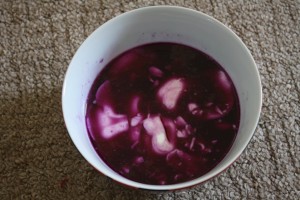 I am now sat watching the TV in the lounge with my feet up after a quick stretch from my own session.  I am tracking 20 members of my club and friends on the online
Virgin London marathon tracker
.  It's gotten really interactive this year.  Each of the people you are tracking appears as a mini runner and you can see where they all are on the course!  Love it!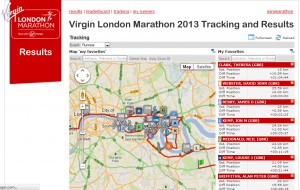 Off to continue watching the coverage…