haven't weighed myself in a few weeks.  I have tended to weigh myself each Monday morning and keep a record in a notepad for the past few years, just as a record for myself and to enable me to keep track and ensure things don't get wildly out of control!  The last three Mondays we have been on school holiday, so I have either forgotten to weigh myself when first waking up due to the change in routine or not been at ours in order to jump on the scales.
To be honest I did feel a little disheartened this morning when I appeared to have gained 2lbs.  I don't feel like I weigh any more than I did and I have been making a positive effort to make healthy food choices and to exercise often over recent weeks.  I wish I had kept a full track of my eating and exercise habits before adapting to a healthier way of living because they would be very interesting to compare now, and honestly I do feel bad about it, specially since I had to lose a few more pounds before visiting my plastic surgeon in boston, MA to schedule my surgery.
I don't want to dwell on the weight gain or obsess over it.  It's important that I am feeling healthy right now.  It is just two weeks (today!) until I run MK Marathon and I need to be in tip-top shape for that!
There's an article somewhere (I think Runner's World?…) about how many seconds/minutes you can expect to shave off your time for various races if you lose a few excess pounds.  I'm not sure how much truth is in it to the second, but obviously, with less excess weight to carry you are ensuring your body does not have any unnecessary stress put onto it and your body can be more efficient at the job you are asking it to carry out.
I shall continue to make what I consider to be healthier choices and to do some form of exercise at least six days a week and then review my weight after the marathon to see if I need to reassess my lifestyle again.
This morning started off with a bit of a bang when I woke Dan with a loud scream after finding that I was sharing my shower with a rather large spider!  Spiders are the one beast I cannot cope with and majorly freak out if I think I was even ever close to one!  So at 5:45am Dan came and removed said spider from the bath before returning to bed!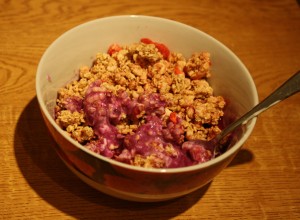 I mixed the rest of my low-fat yoghurt (about two tablespoonfuls) with the rest of my pineapple and rasberry juices (about four tablespoonfuls) and then added a portion of Tesco strawberry crunch cereal for breakfast.  I know the purple colouring looks odd, but it really does taste nice and I'll definitely miss it now it's gone!