So yesterday I spent most of the morning/early afternoon watching the London marathon on TV and tracking 19 club runners and one friend on their online interactive tracking system.
Initially, my aim had been to go down to the London expo on the Friday after school and stay overnight with friends in London.  Later on I had toyed with volunteering for a charity aid station as well on the actual marathon day.  I ended up giving up on both of these ideas towards the end of the Easter holidays when I knew I would be busy with my first week back at school and fitting in training for my own upcoming marathon in just a fortnight's time.
I was still really excited to watch it on TV though!
To begin with I felt really, really drowsy, with my head rocking whilst lying on the couch.  I'd gotten up at 5:45am and completed a 15 mile tough run!  Dan brought down my glasses and I removed my contacts incase I ended up falling asleep but knew I would be so cross with myself if I did!  When the elites shot off I jumped upright and was glued to the screen until the coverage finished 5.5 hours later!
I only caught glimpses of a few of our club members.  We run in a bright green vest so we're relatively easy to spot.  Last year I think I spotted everyone in the coverage at some point or another!
A 30 second silence was held before the masses start in respect for Boston last weekend.  £2 for each runner was also donated to the Boston Bombings fund. London appeared to run without hitch.  Other than the crash between Josh Cassidy (wheelchair racer) and Tiki Gelana (female elite) about 15k into the race at the aid station.  I've found a clip on Youtube here…
There was also a lot of controversy about Mo Farah running the London marathon.  He never intended on running the marathon, but always to use it as a training experience ready for London 2014 next year.  Instead he pulled out just before the half marathon point.  Allegedly he was also running late and had to run to get there on time?!…
I would LOVE to get into London.  I've heard horror stories of people waiting eight years for a place…although equally just as many of non-runners who apply on a whim after a night of heavy drinking and get in first time!  I shall be up bright and early next Monday morning to enter the ballot.  With entries closing at 100,000 (usually within 24 hours) and only 36,000 of those that entered getting a place (just 20,000 of those directly through a ballot place), I think 2014 will more than likely be Milton Keynes Take 3!
Because I couldn't bear to leave the TV despite actually getting very hungry, my amazing boyfriend made a stir in milk and water sauce pasta dish and brought it to my couch for lunch!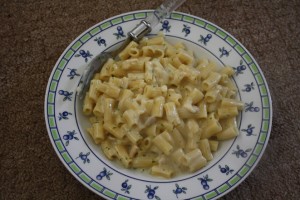 And then I made him a sausage casserole for tea…1 potato, half a carrot, 2 sausages and four cheese dumplings each.  Nice and warming from the inside out!