Food today has been pretty boring so far I'm afraid…
A bowl of blueberry wheats and strawberry crunch cereal with semi-skimmed milk (I'm so predictable!)  I won't be able to have this tomorrow as I can't eat until after my blood tests have been taken and I'm going straight from the doctors to work…I'm not sure eating cereal whilst driving is one of my many talents!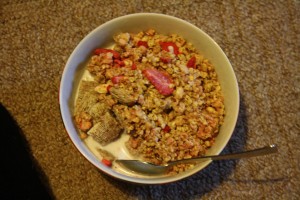 Breakfast was relatively early (5:15am) so when I got to school I also snacked on this apple quite early on in the day…Today's apple didn't have quite as freakishly long a stalk as the apple I snacked on yesterday!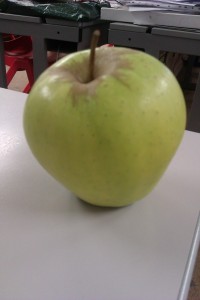 For lunch for a change I pre-toasted a bagel at home and added some smooth peanut butter and smoodged the whole lot together inside some tin foil.  This was nice to pull bits off of and a nice change from my usual salad, but I've found that it's pretty boring taking a sandwich/bagel to work.  I much prefer the colour and different items that come from having a salad.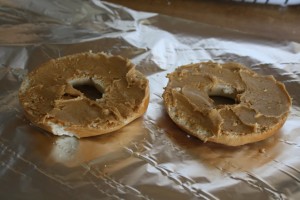 I was in a relatively good mood all afternoon and my year 11s pleased me with their relatively quiet banter and willingness to work through the practice exam paper I'd given them so I made the most of it and listened to some Scott Mills quietly in the background.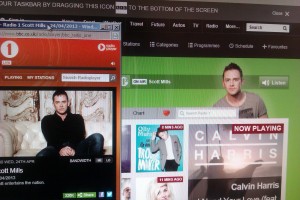 I do miss not being able to listen to Scott Mills in the evenings.  He really reminds me of my friend Rich and always makes me laugh out loud!
On Wednesdays I'm on after school bike shed duty – which basically means I just make sure that the students get away from school without any bullying/punctures/stealing of other student's bikes.  Most kids tend to know who I am or at least recognise me and I always end up having some hilarious conversation with them whilst I'm waiting for them to vacate the sheds.  [At times], I do really enjoy my job! 

After bus duty I whizzed home today.  I'm heading out for an hour and a half long trail run this evening at 6:30 with some of the guys from my running group and the group above.  Kev, the guy who organises the trail runs tends to put on at least one each week at varying lengths and locations but I'd always been too scared to go along before for fear that I would be the slowest struggling mess there!  But tonight, one of the guys from the group below me is going to give it a go as well.  I'm really looking forward to it, although I am missing out on Date night with Dan, but he has given me clearance for tonight.  He is a good boyfriend really!
I knew I would not last until 8:30pm on my lunch, so when I got back I fixed myself a quick snack of cheddar cheese and crackers.  I haven't had this in a while and had forgotten how much I enjoyed it.  I might add it to my lunchbox for tomorrow's lunch!
It was really nice being home for 4:20, and I love how light it is outside at night now!  During the winter, leaving before 7am and returning after 6pm from school mean that I never see the daylight.  Now, I really know it's almost Summer! 

  Just look at my pretty front lawn!