I'm back on the Tesco strawberry crunch cereal with Blueberry wheats and semi-skimmed milk again for breakfast.  What can I say?…I love cereal!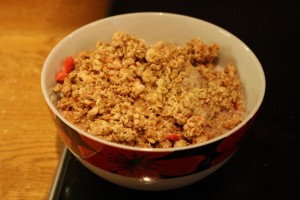 I wasn't too hungry today and didn't grab a morning snack.  I hadn't packed quite as much for lunch today and had a salad of a little lettuce, a carrot, about 8 grapes and a tomato with some more of the houmous pot I started yesterday.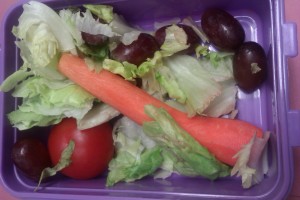 My mid-afternoon snack was an apple.  An apple which had the longest stalk I have ever seen!…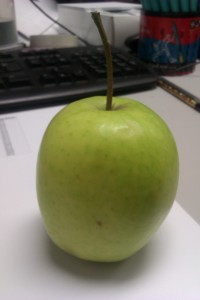 And then when I got back from running club, Dan had made me some haddock with a side salad of lettuce, grapes and half a red pepper.  I don't think I've ever had haddock before but this was really nice.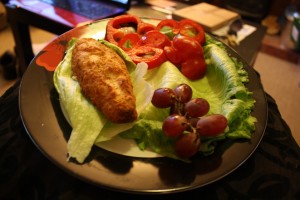 Dan had gotten late out of work last night which meant he was late picking me up from work which meant I rushed around from the second I got through the door at home, desperate not to miss a session at club.
There is always so much to think about when preparing a run…
* Is my Garmin charged?  (I'm a proper geek and love looking at all of the data afterwards and analysing it in my own little way)
* Have I had enough to drink today?  Or am I going to need to glug a bit more water in the car on the way to club?
* What is the weather like?  Am I going to be too hot in anything but shorts?  If so, do I need to shave my legs?
* MUST REMEMBER MY FLOURESCENT BIB!  Club runners can't run with the club without this.
* Have I been to the toilet?  A must.  There's been several runs where I've not had a chance to get to the toilet before the run and had to duck into a pub or hedge on route!
* Have I eaten enough to get me around for the planned session?  Or am I going to need to grab a quick snack to keep me going?
* Do I have clean running clothes?  Where is my bra?!  My clothes tend to end up in piles around the house and when running around like a mad person with 5 minutes before having to leave for club I can never find them!
At club tonight we had Andy as our coach again.  The planned session was 1k reps around Swanspool, a slightly hilly km circular route.  One direction is much upward hillier than the other.  (Not sure how that works?!)  Lots of groups offer this session monthly in order that members can see how their speed has progressed with recent training.  I've always seemed to miss every session that has been recorded so far and was looking forward to getting some base figures to work with.  After a two mile warm up jog at 9mm pace we began by completing our first rep the easier way round the kilometre.  The way that began and ended on a downhill.  At the finish line Andy was reading the timings out loud and the idea was to remember your time and write it next to your name on paper on the clipboard.  I'm pretty sure my first rep was 5.04 and the second was 5:07.  I felt pretty strong throughout both of these km reps despite coming in last or nearly last in my group each time.  We had about 2-3 minutes rest between each km rep and then the last two reps were in the slightly harder direction (starting and finishing on an uphill).  I completed the first one in 5:14, and knew I wouldn't be able to complete the second without a toilet stop so unfortunately then had to let Andy know I was sneaking off back to base to go to the toilet.  By this point it was 7:20pm (Club runs until 7:30pm) so I completed some cool down stretches and headed home a little early.  A little frustrated I needed the toilet so badly – I hadn't had time to go with Dan being late home from work – but glad that I put my all into the reps I completed and never came close to giving up.  I'm just waiting for the group times to be posted now…