I was so disorientated this morning.  I woke up about an hour later than normal (6:30ish) so as not to sit thinking about the hungry noises my stomach was making from lack of food and headed through to the bathroom to go to the toilet.  In a daze I went to pick up my glasses but my vision was all blurry when I put them on so I removed them and scrubbed them down with the underneath of my dressing gown.  When I placed them back on my vision was still all blurry so I gave them another scrub.  Still blurry.  Confused, I headed back to the bedroom to see if Dan would clean them for me whilst I put my contacts in.  I couldn't understand how they could have gotten so blurry that I could barely see through them!  I opened my contact pot and fished around for my left contact with my index finger.  It was missing.  Cue panic!…Cue realisation that I actually fell asleep with my contacts still in my eyes last night!  Oops!  I've fallen asleep several times in my contacts before, but always been aware of doing so.  Last night I just literally forgot to take them out before bed!
This morning I had to drive into work rather than grab a lift with Dan as I had to go to the doctors to have a blood test done at 8:10am.

I pre-packed my breakfast, desperately wanting to lick the knife of peanut butter after spreading it on my bagel.  I packed up a little chunk of cheese as well for a treat as I hadn't been able to eat since 10pm last night.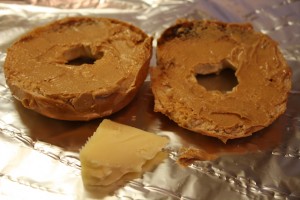 Both parts of my breakfast were wrapped up in tin foil and I headed out to the doctors.  I was let in relatively quickly and let the nurse know that I has prone to collapsing at times.  She was very gruff with me and barked that I should have mentioned beforehand because she only had 5 minutes between patients and if I started to feel unwell it wouldn't give her enough time to finish before the next patient was due in.  She directed me to the bed rather than the chair and I lay down.  After FIVE attempts at pulling blood from my arm she thrust my blood request form at me and told me that she couldn't do it and that I would have to take it to the nearest medical centre (about a 15 min drive away) where they had more time and better needles!  I fled out to my car and burst into tears.  I was really hungry by this point, pretty tired and knew that I would now be late for school and put pressure onto the cover staff to cover my lesson.  (It was my last lesson before the carousel change with a lovely year 9 class)  I was angry that I had been given up on as well.

When I arrived at the medical centre I pulled a raffle ticket from the machine, waited about 5 mins for a slot and was in and out within a matter of 4 minutes!  Such an easier service.  I know we get our health care for free in the UK but I still think there's much to be improved upon!  I've had several similar experiences at this doctors.  How easy is it to change your surgery does anyone know?…
I ate my cheese and bagel in the medical centre car park when I returned to my car and with all the stress of the morning I ate my salad sandwich at breaktime.  It was a lettuce, cheese and green pepper one today!  I think I prefer the red and orange peppers but this was still heaven in a sandwich!  I did manage to keep my apple for my snack in the afternoon but I really couldn't concentrate at work today and felt pretty sleepy all day.