I'm really annoyed with myself because I just cut the pictures of my tea direct from my camera and then never pasted them before turning the camera off, so I lost them forever. 

  They're not even in my Recycle Bin to restore AND I experimented and made a new meal tonight!
Anyway…my weekend began super early today.  At 3:30 I was out those school gates and was in my car by 3:33, ready to head home.  I hang around at school all week and have never left this early before.  It was lovely!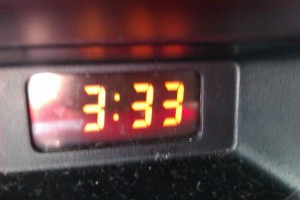 The plan tonight was to run 6-7 miles and then to repeat the same 6-7 first thing tomorrow morning.  Initially I was going to repeat the same 9-10 miles but thought that might be a little too much the week before my marathon even with an Ultra lined up in five weeks time!
As I was typing up my earlier blog post I caught sight of my iPod in the TV cabinet.  Since I have been a 'runner' (since joining the running club!) I have never run with my iPod, but before joining the club, when I used to head out for the odd 30 min jog here and there I used to use my iPod all the time.  Dan boght it for me about five years ago with the intention of me using it to keep up with my music while out and about, but I tended to download Scott Mills podcasts from Radio 1 back in the days when he still had the tea-time show and have a proper laugh the whole way round my run.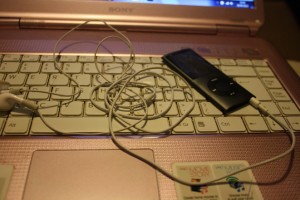 I decided that I was in the mood for some podcast listening today and hunted out some Marathon podcasts instead whilst my iPod was charging.  (It must literally have been years since I last used it!)  I ended up listening to the first episode of a podcast called Marathon Talk which is now really popular and has had over a million downloads!  The first episode contained an interview with Liz Yelling, among other things and I found it really interesting listening to how she coped with not being able to run for 8 months when her pregnancy didn't go as smoothly as she had hoped and about her peak milage weeks.  I wonder how long it would take me to run 119 miles each week?!
I usually prefer to run with my thoughts, but I have driven in to school four times this week rather than grab a lift with Dan and I would prefer somebody else's thoughts to listen to now!  It's not often Tonight I barely thought about my running, – it was nice just to pootle round and have something else to concentrate on for a change.  I ended up running 6.9 miles, and changed my original route from a road track to one which encorporated lots of different small windy tracks that headed off of the big track by the lakes.  I didn't want to have to worry about traffic tonight and to be able to zone out as I wanted to, and managed to succeed at this several times!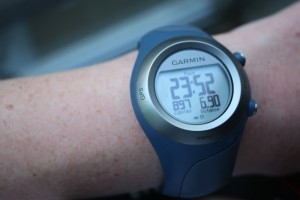 Check out my summer-freckly arm!  Obviously my pace wasn't 23:52mm…this was me stood relatively still trying to take a picture of my Garmin after my run!  Mile splits were; 10:59, 10:38, 10:23, 10:31, 10:22, 10:39, 10:03.  This included making my way through four open and shut gates, retying my hair and starting Marathon Talk podcast #2 at some point.  I'm a believer in letting my watch run strong!  So I probably hit about a 10mm average or just under tonight.  And, even better…I loved my run tonight and my iPod shall make more of an appearance in future easy going runs. 

Tea, was amazing.  But there is no photographic evidence anymore. 

  I chopped up one courgette, one carrot, one small potato and half of a green pepper and roasted them all for about an hour, adding some salt for flavour.  Then I lay them out onto a plate and melted some brie over the top of the veggies.  Lastly, I heated up some tomato based pasta sauce and lightly coated the vegetables in this.  All tomato sauce was mopped up with a delicious bread roll and left me wanting to repeat this meal sometime soon!
Friday Focus – this week was to not look at my Garmin during runs as I had been struggling with keeping pace which was stressing me out.  Despite not really mentioning it on the blog this week I have barely glanced at my watch other than a couple of times during yesterdays painful run – purely to check how much more suffering was going to occur!  I even avoided checking my watch whilst running the Parkrun last Saturday morning to get a much better time than I was expecting!
Friday Focus for this week is going to be to photograph and log absolutely everything I eat.  I've gotten into a bad habit lately of eating half a biscuit before heading to bed, or snatching a spoonful of whatever I am cooking for tea and rather than sticking to the three meals and two snacks that I know is good for me I end up grazing on much more than I should.  If I photograph everything for a week it will go one of two ways…either
1) I will be too lazy to photograph all items so I just won't pick as much anyway… or …
2) I will be mortified at how much I have consumed through grazing and resolve to change my unhealthy ways once and for all!