Another weekend, another 5k!  I've raced quite a few small races just lately!  Here's my medal for today's…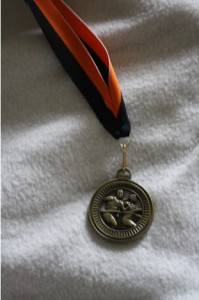 I don't like that the medal is exactly the same for all three of the races in the NAN series.  I only ran two of the three races, but I already have one exactly the same as this from the Northampton race.  Boo!

Breakfast was a bagel with peanut butter.  I've used up the last of my peanut butter now.  I hope I remember to restock before the marathon next weekend!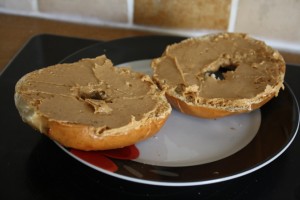 I arrived to this race the same as the last NAN event – not sure where to find the start of the race.  There were no signs directing runners anywhere but at least this time there was a postcode to find the HQ.  I pulled up in a nearby carpark having seen a few runners jog past (albeit without numbers on!) and headed in the direction they had gone, hoping that they weren't just out for a Sunday morning amble!  Luckily, they were racers and led me straight to the start line with 5 mins to spare!  I really need to start travelling to races with other people!  I chatted to a couple of other runners from our club before we were directed to the official start-line out on the road.
The horn blarred out not long after and I had managed to place myself quite well, with not too much weaving in and out to begin with.  I didn't really go into this race with a game plan as such, not with the marathon a week away.  I intended on just running as I felt and seeing how I got on…great plan huh?!
The route was quite nice.  One large loop of 1.3 miles (ish) and then a smaller loop which was repeated so we ran it twice.  I did think it odd that we never actually ran around the boating lake but just around the road surrounding the car park though!  It was a relatively flat course, with just a little hill towards the end of each lap.  The first mile felt quite easy but afterwards I realised I had set out a little too fast as I wasn't planning on a PB today.  My first mile ended up being at 8:50 pace after I tried to slow down towards the end of the mile.  I had a couple of rubbish middle miles, around the 9:30 pace, and then my last little nubbin (someone called it that the other day, I can't remember who, but I love that!) or 0.1 mile I ran at a 6:29 pace!  I tend to be quite good at my sprint finishes.  If only I could run my whole 5k that fast!  Our top female finisher did!  Well, she came in at an average 6:34 pace!  I faded in the middle of the race and didn't push myself as much as I would have done had I not got a marathon in just 8 days time now and had I not been planning a 6 mile run this afternoon.  It was still an OK time at 28:21.  I laughed about this on the phone to my Mum afterwards, as I would have been ecstatic with this time a year and a half ago, and now anything over 9mm average is just an OK time for Me!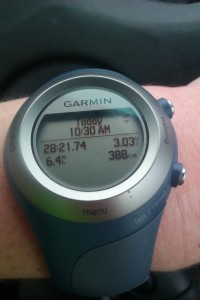 I returned home by about 11:30 to discover that Dan STILL hadn't risen so I set about making myself a mega cheese sandwich for my lunch…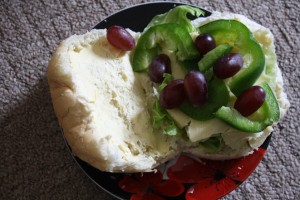 Cheese, grapes, green pepper and the last of my bread rolls.  Cheese rolls or milk really are the perfect recovery go-tos for me.  Protein and some carbs right here!