Yesterday ended up being a last minute decision to head to visit my parents in Norfolk for the day.  Since Mum was diagnosed with terminal cancer just after the start of the year I have tried to head back at least every fortnight.  It is about a two hour drive in each direction and so much more achievable now than when we were living in Stafford when it would be four hours each way.  It's been about two and a half weeks since I last went back and I knew I wouldn't be able to visit next weekend (I have my marathon), the weekend after (I am attending Write This Run) or the weekend after (I have training planned on the course route with Kev for my Ultra) (although I will probably head back for a night mid-week after school at some point) so thought I would head back to surprise her.  I checked with my Dad first that they were going to be in.

Mum has been a little down just lately as she is now three weeks behind on her chemo treatment due to the white blood cell count being too low for them to administer the treatment.  She now has to have a nurse come round daily to give her an injection to help build up her bone marrow again but this causes her body – especially her legs – to ache, and she is also in a lot of pain from the cancer in her stomach as it has now been a month since she last had treatment to prevent the cancer from growing.  She has lost pretty much all of her hair now and because her immunity is so low cannot get out to many places.  She is also exhausted all the time.  Yesterday she slept for much of the afternoon.
Before leaving I had a quick, boring breakfast of Blueberry Wheats and Strawberry crunch with semi-skimmed milk.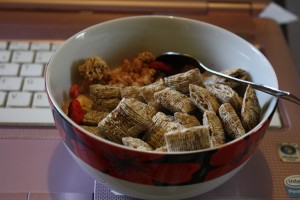 When I arrived Mum was really happy to see me and I sat in the lounge chatting with her and my Aunt who was round at the time.  Dad brought me offerings of a chocolate covered biscuit and a wrapped low-cal chocolate wafer bar.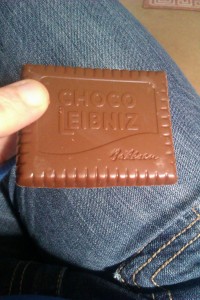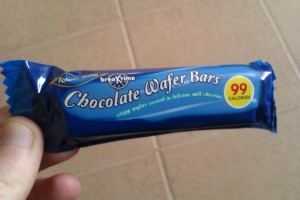 He means well!  Dad was desperate to show me round the new house he had recently bought.  He used to be a builder and he put in an offer for this house six months ago, before Mum got sick, as a new project to renovate and then rent out to provide an extra income.  This is something Dad has done several times now since retiring from building fifteen years ago.  Unfortunately, the house took nearly six months to clear (house buying is NOT a quick business it turns out!) so it has come at the wrong time now that Dad has to spend more time at home looking after Mum.  Although it does give him a project to work on and some space from the situation back home.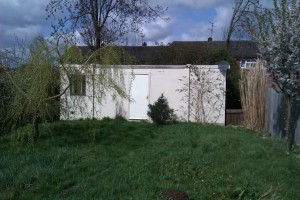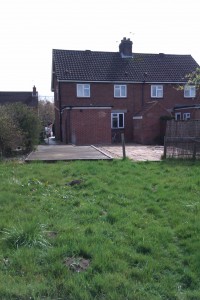 The house turned out to be massive!  It's a three bed house with so much space in the back garden and a huge mobile room that's bigger than the whole downstairs of my house at the bottom of the garden.  The mobile room is hooked up with electricity and would make an amazing office or children's playroom.  After looking around I then went with Dad to walk Blue, my parent's dog.  I didn't get to spend as much time with Mum as I had wanted, as she was so tired but I think it took Dad's mind off things with me being there.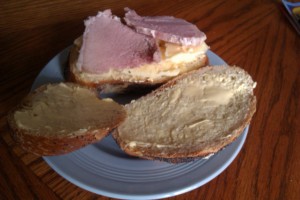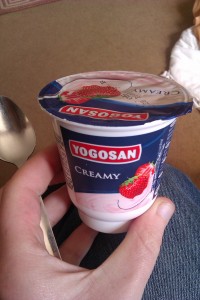 When we returned from walking Blue we each grabbed a small cheese and ham sandwich and a yoghurt.  Dad told me this yoghurt didn't have bits in.  He lied.  I ate it anyway!
A little later on, Dad presented me with a choc ice.  Going back to my parents is always a killer for any diet!  I really listened to my body after eating the chocolate earlier on and the choc ice.  I could have lived without either of these items and would not have chosen them myself.  My whole attitude to food has begun to really change for the better this year (I know it doesn't look like it when I post food pictures from back at my parents, but I feel so guilty when Dad presents me so proudly with 'fun' food that I don't want to let him down by throwing it back at him.)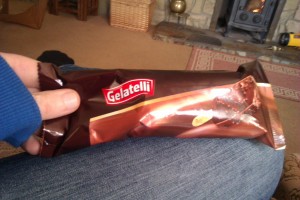 For tea, Mum fixed me and her up with some salmon and cheese sauce with sweetcorn, boiled potatoes and some carrots.  She knows I haven't been that into my meat just lately so pulled the salmon out especially when she knew I was going to stay for tea.  I haven't had sweetcorn for ages, as Dan won't touch it and I'd forgotten just how much I love it!  Dad then insisted on cooking cake and chocolate custard for dessert.  This used to be my favourite when I was little and we always had it when my Aunt from Kings Lynn came to visit.  Now it tends to be they have it when I visit!  I did cut the slice of cake he gave me in half as I was just too full by this point.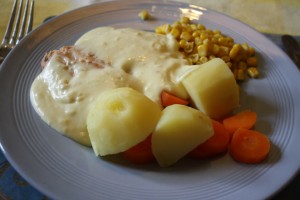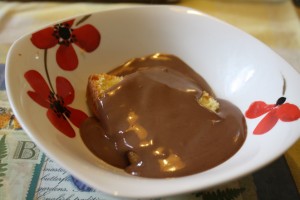 After dinner I took some pictures with my zoom lens out of the kitchen window of the birds on the feeder whilst chatting with Mum.  It was nice just to chill and chat together for a little while.