The Healthy sELF challenge for yesterday was to…Make a meal and workout plan for the week.
These are my scribbled notes in the back of a notepad yesterday whilst back at my parents.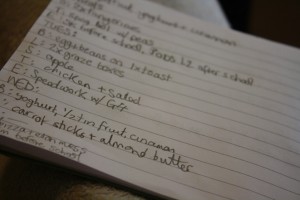 This is my plan for this week…!  Nothing is set in stone, but it feels good to know that I'm sorted an organised for the week.  Hopefully there will be no getting home at 8pm this week asking Dan what he fancies for tea!
| Day | Breakfast | Lunch | Snacks | Dinner | Exercise |
| --- | --- | --- | --- | --- | --- |
| Monday | Grapefruit, yoghurt and cinnamon | *Treats* (as Mike forgot them on Fri he is bringing them in on Mon instead) | 2x tangerines | Spaghetti bolognaise with peas | 5k before school.  30 Day Shred Level 2 after school |
| Tuesday | Egg and beans on one slice of toast | 2x graze boxes | Apple | Pesto chicken salad | Speedwork with Group four at running club |
| Wednesday | Yoghurt, fruit and cinnamon | Carrot sticks and almond butter | None | Vegetarian pizza and eton mess (heading out for a birthday meal with some girls from work) | 5 miles before school |
| Thursday | Egg and beans on one slice of toast | 2x graze boxes | Apple | Pasta bake with salad | Group five tempo run with running club |
| Friday | Fruit, yoghurt and cinnamon | *Treats* (my turn so I shall make them as healthy as possible) | Grapes | Remainder of pasta bake with roasted veg | 5k before school. 30 Day Shred Level 2 after school |
| Saturday | American pancake with fruit | Jacket potato with cheese and beans | Grapes | Roasted veg and salmon | 5 mile walk |
| Sunday | Egg and beans on one slice of toast | Salad sandwich | Grapes | Sausage casserole | 5k walk and 50 crunches |