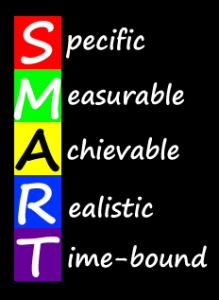 A wise coach (Andy) once said to me that when setting running targets for yourself you should not have just one goal but at least three goals related to your main goal.  Imagine if my only goal for the Milton Keynes marathon this weekend was to achieve a Sub 4h 45m time but I had to queue for a portaloo for 10 mins on the course and came in at 4h 46m…I would not have met my goal for the marathon.  I would have underachieved and would have to wait another six months before having the chance to hit that goal – in the meantime feeling devastated that I had essentially failed at what I had set out to do.
My Marathon goal is to hit a Sub 4h 45m in the upcoming Milton Keynes marathon on Monday.  Working by Andy's rule I have broken this down into Gold, Silver and Bronze goals for the day.  Imagine getting to mile 22 and knowing that I no longer could make up the time to cross the finish hitting my 4h 45m target.  I am certain that my body would be telling my head that there was no point anymore, that I had already missed my target.  However, with my Silver goal at 4h 50m and Bronze goal as a Sub 5h there is much more chance of me hitting one of these targets and not feeling that I had 'failed' my task.  All three should be achievable with the training I have undertaken since the start of the year.  My Gold goal being my main target for the race, although essentially I would be happy to achieve any of these goals on Monday.
When setting goals try and stick to the SMART goal setting method.  Make sure that your goal is very specific and that you decide where, when, what, how and why as part of your target.  Make it measurable…how are you going to judge if you have achieved it?  Do you have everything in place to make it achievable?  Is it realistic?  (No matter how much I would love a 2h 30m marathon it's just not a realistic target for me!!!)  When are you going to set as the official 'deadline' for your goal? – make it timebound.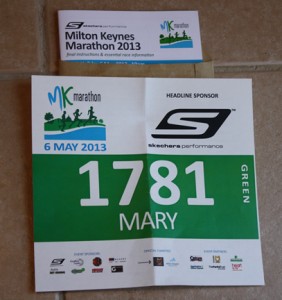 My current goal: I will achieve a PB of at least 6 minutes (5hr marathon) at the Milton Keynes marathon on 6th May 2013.
Along the way this was broken into smaller, bite-size chunks to help me achieve faster times and to run greater distances (eg; to break a 27m 5k (which I did in February) and to cover 22 miles in a training run).  I also have longer term goals to work towards (I would like to break 4h 30m in a marathon by the end of the year and am hoping to enter Mablethorpe marathon which runs in October), with the MK marathon acting as a stepping stone for the next goal on my list.
Without a clear goal lined up, it will be difficult to improve and could result in you just ambling along without any real direction to improving or achieving your full capabilities as a runner. I have found over the past two years that regular, updated, clear goals have helped to keep me focused and get me to today…five days before marathon number two!