So, here was the plan for yesterday. Again, mainly followed, but not 100%…
| Day | Breakfast | Lunch | Snacks | Dinner | Exercise |
| --- | --- | --- | --- | --- | --- |
| Tuesday | Egg and beans on one slice of toast | 2x graze boxes | Apple | Pesto chicken salad | Speedwork with Group four at running club |
BREAKFAST: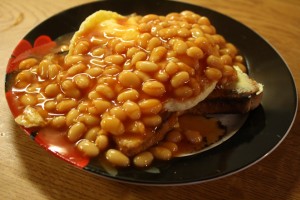 The first time I can ever remember having a mini 'cooked breakfast' that I've made for myself!  As planned, one scrambled egg and baked beans on one slice of toast.
LUNCH: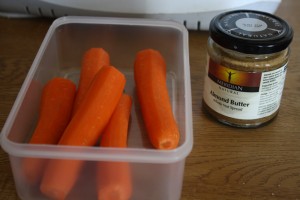 (I thought it was carrots on the cards for lunch…got it wrong…it was supposed to be Graze boxes today!  Five yummy carrots with a smidge of almond butter for my lunch.  I prefer the carrots without the almond butter though I've decided.
SNACKS: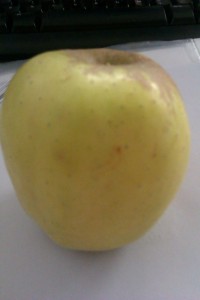 Yummy apple!
DINNER: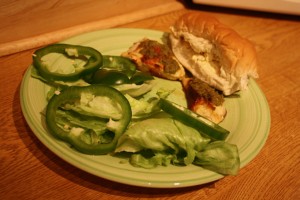 The tiniest chicken breast we possibly had!  Can you see it?  Just behind the lettuce!  Dan put this together whilst I was at running club.  Pesto chicken with salad was what was on the menu for tonight (he had BBQ sauce instead of pesto).  I thought I had more salad left than just peppers and lettuce but Dan assured me that I didn't so I also added a bread roll to bulk out my meal a little.
EXERCISE:
I was supposed to be completing a speedwork session with Group 4 tonight but wimped out at the last minute and joined Group 5.  I knew that I could still push myself as much as I wanted during the actual speedwork but then that I wouldn't have to worry about overdoing it on the run out and the run back again.
Rob was taking the session last night and we began by running about a mile out to where there are some crossroads in the middle of the local park.  I found the mile run there very easy and was a long way infront of the others, which gave me a confidence boost and reassured me that I was actually running in the right group by being in group 4.
The crossroads in the park is at the bottom of a dip, so whichever route you take away from the crossroads you are heading uphill.  Two of the uphills are significantly steeper than the others.  Rob set us to run 100 metres out in one direction, then back to the crossroads, out in the next direction working round clockwise and back and continue until we had completed all four crossroad routes.  The aim was for everybody to push it at 80% of 5k race pace.  I was supposed to push it at 75% of 5k race pace as I was the only one with a marathon this coming weekend.
The idea was to complete three reps, with a 200 metre slow walk between each as recovery.
I found myself in the front few of 15 people each rep we did which wasn't surprising as I normally train with the group above.  However, my pace hovered around the 8mm mark for most of it…not sure this counts as 75% of race pace as my PB for 5k is at 8:40mm!  The first rep we completed I covered in 6m 44s.  The second was a little faster in 6m 40s and I didn't catch the time of my third one but this was a good 10s or so slower.
Running the reps made me concerned at how slow in comparison I was to the group 5s at speedwork.  I know I've been training a marathon so my speed pace will have suffered but I spoke to Rob about my concerns on the way back.  He gave me what I think was supposed to be a compliment when he said that I didn't have anything to worry about – even though I'd been marathon training and running at less efforts than the others tonight I still always came back in the top few and looked much less battered than they did!  Erm, thanks Rob!!!  He advised that after the Ultra, I should knock down my long mileage to no more than 13miles at the weekend and race some of the EMGP race series we have coming up, which was basically what I was planning anyway.   He seemed to think that my pace would return quick enough and if played right I could have a Summer of PBs ahead of me…FINGERS CROSSED!
Whilst we were talking I realised at one point we were a long way ahead of the rest of the group, despite travelling at an easy 9:10mm pace back.  I really need a group 4.5 for me to transition up to the next group!!!